Sajnos költözésem miatt kimaradt az őszi albumajánló, de gondoltam, bepótolom egy év végi 10-es listával. De nem tudom. Mert még az összeszedett héttel is tudnék vitatkozni, mindenesetre ezeknek biztosan örültem, hogy vannak, és ha még nem pótoltad be vagy még nem szeretted meg ezeket, az ünnepek alatt adhatsz esélyt. Viszont rengeteg jó szám mégiscsak készült, két mix-szel próbáltam valamennyit összeszedni, de még 1-2 nagy gyűjtést biztos össze tudnék hozni, na, de erre vannak a dj-zések. Hallgass bele a legjobb számokba, albumokba!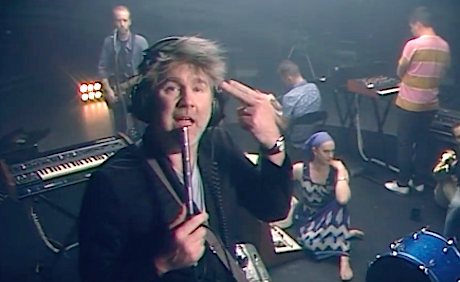 Az egyik mixben a nyárig megjelent számokból válogattam, főleg visszafogottabb gitáros underground/indie/alternatív/ számokat, csak megtűzdelve pár gyorsabbal:



Az év végére pedig egy elektronikus válogatásra jutott szusz:



Ami az élő válogatásokat illeti, októberben a budapesti Központban összegeztem idei zenéket Akos V meghívására, most pénteken, dec. 22-én pedig Szegeden egészítem ezt ki még több újdonsággal a Jazz Kocsmában.

És akkor pár album, amiknek kiemelten örültem ebben az évben, még ha nem is tökéletesek:

The Horrors: V - 2017

A kritikusok örültek a soros zajos-szépséges-borongós-pszichedelikus-popos-posztpunkos albumnak, míg jó néhány régi rajongót már fárasztott. Szerintem nagyon jó arányérzékkel pakolták össze: épp annyi pop, zaj, enerváltság és kitörés van benne, amennyi kell, megjegyezhetőek a slágernek szánt számok, és nem húz le a többi sem. Lehet fanyalogni, de egy ilyen évben örülni kellene inkább, hogy akad olyan előadó, aki nem veri le a magasra tett lécét.



The Brian Jonestown Massacre: Don't Get Lost - 2017

Anton Newcombe ezúttal szórakoztatóan kalandozik a shoegaze-től a rave-ig, de mégsem lóg ki egyetlen szám sem az egységből. Hol cool, hol megható, hol vicces, úgy alakítja a pszichedelikus attitűdöt, hogy ne álljon be a sorba, és végig érdekes maradjon.


The Moonlandingz: Interplanetary Class Classics – 2017

Egy nagyon furcsa, egyébként Sean Lennonnál felvett album egy "fiktív" zenekartól, amiben két Fat White Family tag is részt vesz. Az egész nagyon dögös (ebben része van az ex-Add N To (X) dobosnak is), hol pszichedelikus, hol posztpunkos – ötlettel, zenei műveltséggel és intelligenciával teli zenészek mókázása, ami egyáltalán nem öncélú szerencsére. Táncolásra és ejtőzésre is alkalmas. Érdemes amúgy a beágyazott videó mellett figyelni ERRE a szépséges klipre is!


Beach Fossils: Somersault – 2017

A brooklyni Beach Fossils egy nagyon kedves, jangle popos indie-t játszó zenekar, akik engem feszesebb, Clash The Truth című, előző albumukkal fogtak meg igazán, noha a kritikusok nem voltak oda érte igazán. Az egy komorabb, lendületes pillanatokkal teli, elég lo-fi album volt, míg az idei ennek szinte az ellentéte: összességében pozitív hangulatot sugárzó, tisztán szóló, visszafogottabb cucc. Először lemondóan legyintettem, de be kellett látnom, ezek a látszólag tucat tinglitangli dalok bemásznak a fejedbe, és ez örömmel tölt el. Szeptember 9-én szuper koncerten mutatták be az új albumot Budapesten, és saját tapasztalatból mondhatom, ha elsőre nem is tűnik úgy, ezek a dalok tele vannak élettel, rádáasul viccesek is a srácok.

LCD Soundsystem: American Dream – 2017

Tíz év után tér vissza a negyedik szinte tökéletes albummal James Murphy, a kultlegenda, vagyis inkább antilegenda. Ő nem attól az egyik legnagyobb előadó, hogy eljátssza a lenyűgöző előadó szerepét. Ő csak fogja Bowie-t (akinek közreműködött utolsó albumán, és akitől bátorítást kapott a folytatásra), a Beatles-t, a krautrockot, a punk/posztpunk hagyományokat, az elektronikus zene múltbéli és mai eszközeit, meg mi mindent, a maga hibátlan ízlésével a saját zenéjévé alakítja ezeket, és nagyon őszinte. Őszinte az öregedéssel, a zenéjével, az élet apró megfigyeléseivel kapcsolatban. Az új album hozza a megszokott minőséget, sokak szerint túl is szárnyalja azt, mindenesetre biztosan az underground zene csúcsteljesítményei közé kerül idén.
Slowdive: Slowdive - 2017

22 évvel utolsó albumuk után a shoegaze legenda visszatért, hogy megmutassa, hogyan is kell ezt a fátyolos- érzékeny, keserédes, zajos-fülbemászó műfajt naggyá tenni, miről szól ez az egész. Ha kell, sodornak, ha kell tűpontos ízléssel visszafogottak, néha szinte The XX-et idéző intim pillanatokkal. Csemege zenebuziknak.

King Krule: The OOZ - 2017

Csöppet összeszedettebb második albumot vártam ettől az igazán angol csodagyerektől, de aztán rájöttem, hogy ő így jó, ahogy van. Inkább hangulatfestő az egész, kb. 3 tényleg megjegyezhető számmal. Összehozza a füstös jazz klubot és az indie songwritert, a dühös-magányos fiatalkort és a jó öreg Tom Waits-et egy olyan sajáttá, amit csak ő tud. És ez akkor is szórakoztató, ha többet vársz.


Keveset emeltem ki szerinted? Akkor pótolj IDEI ALBUMAJÁNLÓIMBÓL, hiszen rengeteg olyat találhatsz, ami tetszik, mint említettem, az őszi merítés kimaradt, de cserébe a fenti listán két őszi album is szerepel. Sajnos a magyarokra nem maradt erőm, pedig az EZ Basic-től Szabó Benedeken át a The Somersault Boy-ig számos meghallgatásra érdemes magyar album született, jó néhányról olvashatsz is előző ajánlóimban.