Idei, nyári-nyárvégi underground kedvencek nagy visszatérőkkel és kellemes meglepetésekkel befordulóstól könnyed lazázósig, posztpunktól shoegaze-en át stadionindie-ig. A rengeteg link mind zenéhez vezet: vagy egy meghatározó szám YouTube-klipjéhez vagy az album Spotify/Bandcamp/stb.-elérhetőségéhez. Ajánld te is kommentben kedvencedet!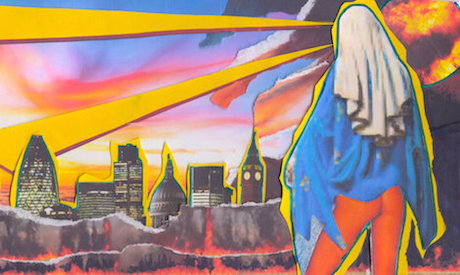 Az olyan nyilvánvaló csalódásokkal, mint az új Phoenix, most nem foglalkozunk különösebben, és sajnos az okés albumokról írt feljegyzéseim elvesztek, így ez a lista is hiányosabb, mint amennyit meghallgattam, de mindegy, a lényeg itt van, és talán ti is jobban örültök, hogy nem zúdítok rátok még egy konténernyi nevet.

Sok szerethető, ám nagy kedvenccé nem váló album akadt még nyáron is, számos ismert névvel, a felsorolás alatt ki is emelek párat jobban: a Happy Mondays Shaun Rydere Black Grape nevű zenekarával ad egy újabb adagot magnetikus személyiségéből, ami igazi, szókimondó angol családi szórakozás, de kaptunk még egy shoegaze visszatérőt is – a The Telescopes kompromisszummentes, lenyomó, zajos büntetést választott visszatérésnek, és ha már itt tartunk, a műfajkövetők is ott sorjáznak a középmezőnyből pl. a Crash City Saints. Ha valaki intimebb momentumokra vágyik, akkor a Fazerdaze csajos, tengerparti morfondírozásait (a linkelt szám nagy nyári kedvenc volt) vagy az általunk is kedvelt The Babies frontembere, Kevin Morby felnőttes dalait ajánlom  (bár a linkelt épp egy Ramones-tisztelgés). Akik szeretik, ha valaki ügyesen vegyíti az elektronikus zenei elemeket a gitárossal, annak érdemes a Bonaparte, a Formation vagy Toro Y Moi aktuálisát meghallgatni – ki merre mozdult éppen (bár utóbbi azért a csalódás kategóriába is beférne). A rockosabb fura zenéket kedvelőknek a Chain & The Gang kedveskedett pár jobban sikerült számának újraértelmezésével, a legendás The Fall kihozta soros, kötelező és mindig élvezetes Mark E Smith kirohanásait, John Dwyer pedig most Oh Sees néven adta ki sokadik, kísérletező garage-psych albumát. A Crystal Stilts-ből, Dum Dum Girls-ből, Vivian Girls-ből és Beverly-ből ismert Frankie Rose túlságosan elmerül a 80as évek szintis világában, és a 70es végi, 80as eleji harapós-rosszkedvű posztpunk bandákat idéző svéd Holograms újdonsága pedig sajnos túl kiszámítható. Na, de magyar előadó se maradjon ki, azért alapvetően bírtuk a the boy and the tele új, még több Brian Molkós éneket tartalmazó, szívhez szóló EP-jét is.

A kedvelt kategóriából akkor jöjjön pár kiemelt:
Hercules and Love Affair: Omnion – 2017
Bár a legtöbb itt ajánlott zene gitáros, azért nagyon szeretjük az elektronikusat is, Andy Butler pedig mindig is szimpatikus figurája volt a korai house és a melegdiszkó megidézésének. Az utóbbi kb. 10 évben ezt váltakozó érdekességgel szállította, új albuma viszont biztosan a jobban sikerültek között van. Slágert is sikerült összedobni a The Horrors énekesével, és többek között felbukkan Sharon Van Etten, de külön érdekesség, hogy a Hercules and Love Affair történetében először ő maga is énekel. Az egész kicsit túl easy, túl befogadható, de kellemes, az biztos.
Arcade Fire: Everything Now – 2017
A stadionindie alapzenekara ismét hatást vadászik, hol meglepőbb eszközökkel, mint a címadó szám ABBA-idézése vagy az Infinite Content zúzása, hol a megszokott nagyívű érzelemömléssel. Nincs ezzel semmi baj, és nem is rossz album egyáltalán, csak éppen nem is túl érdekes, és biztosan nincs versenyben a klasszikusaikkal.
Ulrika Spacek: Modern English Decoration – 2017
Ez a londoni zenekar szöges ellentéte az Arcade Fire intézménynek: igazi DIY-gyöngyszem, ami nem a tömegeknek szól, hanem azoknak, akik szeretik a Deerhunter, a Sonic Youth zajosabb, terheltebb alternatív világát. Nem hoznak sok újat, talán nem is kell, viszont szerethetőek, még akkor is, ha azért számos dolgon javítani lehetne. Egy biztos: ők megtették, amit meg tudtak, és ez nem kevés.
The Pains Of Being Pure At Heart: The Echo of Pleasure – 2017
Ez az album a kedvencek között is lehetne, ha nem emlékeznék arra, hogy ez a kedves zenekar egykor kedves-zajos zenekar volt, és bármilyen elcsépelt eszköz zajjal aláverni a cukiságnak, mégiscsak hatásos, ha jól csinálják. Szívet melengető indie ez, ha épp arra van szükséged, lejátszóba vele!
Liars: TFCF – 2017
Az egykor brutálisan zajos és büntető Liars két csodajó, sötét elektronikus/ambientes lemeze után némileg megint irányt vált. Az alapító és egyetlen állandó tag Angus Andrew a berlini évek után visszaköltözött Ausztráliába, és talán ez az albumon is nyomot hagy. Keresi a helyét, tapogatózik visszafogottan. Nem is az a baj, hogy most nem döf bele az agyamba, hanem hogy azért az ő tehetsége lebilincselőbb dalokat is ki tud termelni. Ennek ellenére kellemes hallgatnivaló.
UNKLE: The Road Pt. 1
A hatodik UNKLE album hét év kihagyás után jött, de James Lavelle mintha ott folytatná, ahol abbahagyta. Összeszedett, nagyívű konceptlemez megint sok közreműködővel, most többek között a Primal Scream vagy az egyébként éppen szintén új albummal jelentkező Queens Of The Stone Age tagjaival, és jó pár, rá jellemző patetikus, elektronikus/gitáros számmal. Sajnos a hatásvadászat túlzásokba csap (a himnikus túl himnikus, az érzelmes túl érzelmes), és sajnos nem mindig a megfelelő vendéget választja, ld. az egyébként tisztelt Mark Lanegan túl öreges szereplése az egyik húzószámban. Kár, hogy nincs rajta egy új Restless például.
Warm Digits: Wireless World – 2017
Az egyszerre a múltba és a jövőbe tekintő, analóg szintis-gitáros, instrumentális ópuszaival nevet szerzett angol duó most kísérletezős kedvében kijött egy vokalistákkal telepakolt albummal (pl barátaik a Field Music vagy a nemrég ugyancsak újdonsággal szolgáló Saint Etienne énekesnője). Sokat akartak markolni, de sajnos csak majdnem sikerült, mindenesetre az igyekezet látszódik, és kiemelkedő számok is akadnak, nekem pl. a nyári kedvenc lötyögős itt alább:
Amiket viszont még többször hallgattunk:

LCD Soundsystem: American Dream – 2017
Tíz év után tér vissza a negyedik tökéletes albummal James Murphy, a kultlegenda, vagyis inkább antilegenda. Ő nem attól az egyik legnagyobb előadó, hogy eljátssza lenyűgöző szerepét, hogy szerepel az újságokban, hogy bombasztikusan populáris elemekkel veri bele mindenkibe, hogy őt szeretni kell. Ő csak fogja Bowie-t (akinek közreműködött utolsó albumán, és akitől bátorítást kapott a folytatásra), a Beatles-t, a krautrockot, a punk/posztpunk hagyományokat, az elektronikus zene múltbéli és mai eszközeit, meg mi mindent, a maga hibátlan ízlésével a saját zenéjévé alakítja ezeket, és nagyon őszinte. Őszinte az öregedéssel, a zenéjével, az élet apró megfigyeléseivel kapcsolatban. Az új album hozza a megszokott minőséget, sokak szerint túl is szárnyalja azt, mindenesetre biztosan az underground zene csúcsteljesítményei közé kerül.
The Drums: "Abysmal Thoughts" – 2017
A negyedik The Drums album tulajdonképen a frontember, Jonny Pierce szólólemeze, de a taglétszám szűkülése egyáltalán nem jelenti a minőség lejtmenetét. A legutóbbi album felemásan sikerült, hidegebb, bonyolultabb világát elhagyva Pierce visszatér oda, amiben a legjobb: kellemes és kellemetlen gondolatokat, hangulatokat nagyon jó érzékkel vegyít egyszerűnek ható, a The Smiths-t, C86-os zenekarokat idéző számaiban. Kicsit, persze, túlságosan hasonlítanak a számok egymásra és elődeikre, de legalább van egy határozott világa, amit folyton csiszol – most kifejezetten élvezhetően, és ez meglepő módon a felvétel minőségére is vonatkozik, ami miatt korábban sok kritika érte a zenekart. Aki szereti a keserédes, alapvetően gitáros, egyszerűen bonyolult tinglitanglit, annak ez nagyon jól jöhet.
Triptides: Afterglow – 2017
Egy album az USA-ból, ami jól illeszkedik a közelmúlt 60as éveket megidéző psych robbanásához, épp ezért akár el is veszhetne a tömegben vagy csak már a csömör miatt is legyinthetnénk rá. De szerencsére tudnak olyan jó számokat írni, illetve van bennünk annyi energia, hogy ne csak a trendkövető zenebuziknak legyenek érdekesek. Ez az alábbi szám, mondjuk, pont elveszhetne a tömegben, de ehhez van klip:
Beach Fossils: Somersault – 2017
A brooklyni Beach Fossils egy nagyon kedves, jangle popos indie-t játszó zenekar, akik engem feszesebb, Clash The Truth című, előző albumukkal fogtak meg igazán, noha a kritikusok nem voltak oda érte igazán. Az egy komorabb, lendületes pillanatokkal teli, elég lo-fi album volt, míg az idei ennek szinte az ellentéte: összességében pozitív hangulatot sugárzó, tisztán szóló, visszafogottabb cucc. Először lemondóan legyintettem, de be kellett látnom, ezek a látszólag tucat tinglitangli dalok bemásznak a fejedbe, és ez örömmel tölt el. Szeptember 9-én szuper koncerten mutatták be az új albumot Budapesten, és saját tapasztalatból mondhatom, ha elsőre nem is tűnik úgy, ezek a dalok tele vannak élettel, rádáasul viccesek is a srácok. Ha még mindig vacillálsz, fun fact: a DIIV frontembere is zenélt a Beach Fossils-ban.
B Boys: Dada – 2017
A szept. 22-én Budapesten fellépett B Boys az egyik legizgalmasabb posztpunk zenekar mostanában, nem mintha bármi újat feltaláltak volna. De elég az, ha a punkos lendület, a karcos hangzás hihető valakitől, és még jó számokat is ír. Élőben sem okoznak csalódást, és szimpatikusak is, mi pl. beszéltünk az énekessel, aki civilben webfejlesztő, és épp valami nagyon olcsó keserű likőrt szopogatott megfázásra. Ja, és kiderült, Parquet Courts-ék a haverjaik, amit azért be is tippeltem volna, de a hatásukat mindenképp.
Downtown Boys: Cost of Living – 2017
A providence-i Downtown Boys szociálisan érzékeny, politikailag odacsapó punkja ahogy az előző, debütáló albumukon, most is lecsap, mint egy vihar. Nincs megállás: osztanak, kiabálnak, táncoltatnak most talán még összeszedettebben. Nem hosszú album, de szerencse is, ebből ennyi épp elég.
Chastity Belt: I Used To Spend So Much Time Alone – 2017
Bevallom, először mérges voltam a seattle-i csajokra, hogy teljesen elveszett belőlük a szusz. Aztán szép lassan, de biztosan beszippantott ez a nyomott, enervált, letisztult világ valahol a shoegaze és a posztpunk között. Ha épp sérült hangulatod van, és jólesik, hogy mások ilyen szépen meg tudják ezt fogalmazni, nagyon jó barátod lesz ez az album. Ha valaki egy kicsit is Seattle-mániás vagy csak öreg, akkor újabb fun fact: alábbi klip a Temple Of The Dog Hunger Strike videójának állít tisztelgő emléket:
Madonnatron: Madonnatron – 2017
A londoni Madonnatron finom, de nem finomkodó, sötét, sokszor atmoszferikus posztpunkjával méltó utódja a hőskorszak erős, darkosabb női énekeseinek, ld. Siouxsie. Meggyőző hangulatteremtés, energia, még ha néha nagyon ismert fordulatokkal operálnak is.
Corridor: Supermercado – 2017
Egy montréali, francia nyelven éneklő jangle pop zenekar újdonsága – véletlen, szerencsés találat. Szimpatikusak, elkötelezettek, és a kedves dallamok mellett van annyi karc, hogy ne legyen túl simulékony az egész.
Broken Social Scene: Hug of Thunder – 2017
Talán a legutóbbi, hét évvel ezelőtti Forgiveness Rock Recordon több az elsőre örök kedvenccé váló szám, a Hug Of Thunder mégis jobban működik mint album. A Kevin Drew vezette, Feistet is sorai között tudó hol összerántott, hol szétkóborló zenekar a legjobbkor és jó formában tért vissza pozitív, stadionokban is helyt álló finom indie rock-jával, mert, hát, közhely, hogy a műfaj nem épp virágkorát éli.
Ride: Weather Diaries – 2017
Még egy visszatérő a klasszik shoegaze időszakból, akik a 90es évek elején voltak a csúcson, majd gyorsan földbe álltak. A Slowdive-val ellentétben ők nem a régvolt erényeket tökéletesítik, inkább teljesen mai zenekar hatását keltik, hol sikerültebben, hol kevésbé – a kritika pl. nem volt elájulva. De a balfogásoktól eltekintve ez egy jó kis dallamokkal telepakolt, szerethető gitáralbum, a shoegaze zajosságát csak nagyon felszínesen érintve.
Rat Boy: SCUM – 2017
Rég várt album ez Jordan Cardy-tól és társaitól, és bár iszonyatosan sokat nyúlnak az azóta kicsit fakóbbá váló Jamie T-től, a Madchester időszakból vagy éppen a Beastie Boys-tól, azért valahogy mégis elérik, hogy átadd magad ennek a nagyon angol hangulatnak, és hagyd a facepalmokat a francba. Őszinte, pimasz, fiatalos a maga könnyed, de azért nem ostoba módján. Ja, és Damon Albarn, meg Graham Coxon is közreműködik rajta.
De amúgy azért ezeken kívül is akad, persze, jó számok egy-egy albumon, erre itt alább találhattok 1-2 példát:

Japanese Breakfast: Diving Woman
vagy elektronikusból

Casa Del Mirto: Blackish