Mostanában a fél világ az új Radiohead-albumról beszélt, sőt, többnyire áradozott, és dacból azért mi se fogunk kígyót-békát összelázadni rá, de szerencsére kiderült, számunkra testhez állóbb, izgalmasabb, frissebb albumok is születtek az elmúlt másfél hónapban, még ha minőségben nem is mindig érik el az említett legenda színvonalát – legyen szó akár flegma, dekadens garázspunkról, súlyos hip-hop szörnyetegről vagy magyar pszichedelikus popról.

Turkálj velünk te is a magyar és külföldi indie/alternatív/underground/stb. újdonságok zavarosában, és válassz új kedvenceket! A linkek mind Deezer/Spotify/YouTube/Bandcamp/stb. linkekre visznek, hogy belehallgathass a friss albumokba vagy éppen a legjellemzőbb számaikba.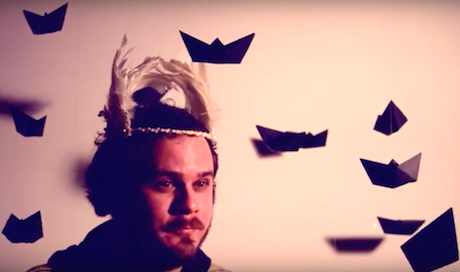 Először is megemlítünk pár friss albumot, amiket ezért-azért muszáj volt meghallgatni, de érdemeik elismerése mellett sem nagyon érintettek meg minket. Például a Car Seat Headrest nagyívű indie rock konceptalbuma a felnövésről, a Nothing shoegaze-e egy a sok közül, a We Are Scientist élvezhető, de közepes stadionindie-vel próbál hódítani, a White Lung nekünk túl amerikai, lobogó punkrokk, James Blake újabb nyavalygása után lehet, meg se hallgatjuk a következőt, a Verve-es Richard Ashcroft szólóban és poposabban fakul tovább, Ladyhawke is belevetette magát a tömegpopba a Tegan & Sarával együtt. Satöbbi, satöbbi a Kenttől az Adult Jazzen át a Rogue Wave-ig vagy a Sepalcure-ig, hadd ne soroljak fel mindent. Aztán ki tudja, később megszerethetjük ezeket is.

Amiket élveztünk, de azért inkább több, mint kevesebb fenntartással:

Klaus Johann Grobe: Spagat Der Liebe – 2016
Nagyon szerettük a svájci duó 2014-es, krautrockos debütalbumát, most új utakat keresnek, és sokszor idézik a 80as éveket, de a pszichedelikus beütés megmarad. Kicsit sok az üresjárat, de aki szereti pl. a Metronomy-t, az ennek is adjon egy esélyt, megéri.

The Kills: Ash & Ice – 2016
Öt év eltelt az előző album óta, Alison Mosshart pl. a Dead Weatherrel dolgozott, Jamie Hince pedig elvált Kate Moss-tól, és még egy súlyos kézsérülést is ki kellett hevernie. Most pedig visszatértek ahhoz, amivel híresek lettek, a cool, sokszor blues-os, néha kicsit zajos, néha kicsit elektronikus indie rockhoz. Mosshart éneke még mindig gyönyörűen karcos és kifejező, a gitárhangzás összetéveszthetelenül Kills-es, és nagyon jól szól az egész. Csak éppen a lendület, az emlékezetes pillanatok hiányoznak, és még az erősebb számok is laposan puffannak. Hince rosszabb periódusa érvényesül ezúttal, és bár őszinteségből nincs hiány, ez egy enervált, kikászálódó lemez, összességében csalódás.

Minor Victories: Minor Victories - 2016
Slowdive, Editors, Mogwai tagok projektje, ahova betéved a Twilight Sad énekese és Mark Kozelek, azaz Sun Kil Moon is. Minden együttes érzékelhető benne, mégse sikerült nagyon megjegyezhetőre, talán a távolság miatt, hiszen egyszer sem voltak együtt a stúdióban. Érdekességnek azért megteszi.

The Blessed Isles: Straining Hard Against The Strength Of Night - 2016
Kedves, többnyire lendületes dream pop a dicső múlt szellemében: (hogy közhelyesen írjam) éteri énekkel, gitárfüggönnyel, néhol szintisen. Kár, hogy annyira ismerős, és hogy a közepén annyira leül, de a műfaj rajongóinak mindenképp ajánlott.

The Strokes: Future Present Past EP – 2016
Igazi késői Strokes: nem rossz, de nem is kiemelkedő, és ezt bánni sem nagyon érdemes. Nincs nagy kajabálás, csak simulékony, mégis rájuk jellemző számok. Ha meg nagy slágert akarsz, úgyis ott a Last Night. Három szám és egy remix az egész.

Moonface/Siinai: My Best Human Face – 2016
A Wolf Parade-ből és a Sunset Rundownból ismert Spencer Krug ismét összeállt a finn krautrockerekkel, és életteli, néha shoegaze-es, néha krautos, sokszor nagy érzelmeket grandiózusan bemutató albumot készített.

Holy Fuck: Congrats - 2016
Még mindig kaotikus, de hallgatható electro-noise rock zenebuziknak.

Cat's Eyes: Treasure House – 2016
A sötéten elegáns The Horrors Faris Badwanja és az olasz-kanadai szoprán Rachel Zeffira újra összeállt, és egy szép, dream/chamber pop albumot hoztak össze, amibe még a Shangri-Las világa is belefér. Kifinomult, ám számunkra nehezen szerethető album.

Satöbbi a a Travis még mindig nagyon humánus, kellemes, de már tét nélküli brit indie-jétől,The Boxer Rebellionon, Beth Ortonon, a Band Of Skulls-on, a Casket Girls-ön, Amber Arcades-en, a Sonny & The Sunsets-en át a Catfish & The Bottlemenig, de hogy elektronikusat is említsek, az új Pantha Du Prince is alapvetően jólesett. Időhiány miatt ezeket nem részletezzük, ha ismerősek a nevek és/vagy kíváncsi vagy, kattints!

Amiket kiemeltebben ajánlunk:

Death Grips: Bottomless Pit – 2016
A bejelentett feloszlása óta sokkal aktívabb punk-hip-hop szörnyeteg hozza a szokásos kíméletlen odacsapást, de azért szerencsére még a hallgatható tartományban maradnak, már az extrémebb tűrőképességűek számára. Nem is tudom, létezik-e manapság még előadó, akibe ennyi sötét energia, őrület és agresszió szorult. Az album elején kicsit túlzásba is viszik (pl. a Cherry Glazerr énekesnőjének segítségével), de aztán a letarolást szerencsére felváltja az elviselhetőbb nyomasztás inkább, sőt a játszadozás a különböző stílusokkal. És ez sokkal jobb, mint a puszta agyrobbantás.
Radiohead: A Moon Shaped Pool – 2016 (Ez egy Google Play link, Spotify-on június 17-től érhető el.)
A megjelenés, ami minden mást elhomályosított az utóbbi hetekben. Merthogy a Radiohead mindig meglep valamivel. Fordultak már gitárosból elektronikusabb irányba és vissza, volt, hogy iszonyatosan lecsupaszították a zenéjüket, most egy visszafogott, vonósokkal megpakolt, érett és érzelmes albumot adtak ki, ami néhol ijesztő, néhol felemelő, és nagyon egységes. Olyannyira, hogy több hallgatás után is nehéz is kiemelni valamelyik számot. És ez azért, szépség ide vagy oda, azért mégiscsak zavaró az esetükben. Türelem kell hozzá, kizárólagos figyelem, és akkor egyben lehet, hogy jobban is megfog ez a talán már túl sok finomság. Azon túl, hogy természetesen minden nagyon jól szól és gondosan hangszerelt, tehát pusztán a fülnek szuper élmény. Nálunk nem lesz nagy kedvenc, de azért tudunk neki örülni, ha megszólal.
Useless Eaters: Relaxing Death – 2016
Effektes, flegma ének, punk attitűd, lo-fi hangzás pipa, ez egy igazi Useless Eaters-album – most több szintivel. Harapós dekadencia hol lendületesebben, hol szétcsúszottan San Fransiscóból.
Spray Paint: Feel The Clamps – 2016
Az austini Spray Paint hatodik albuma, rögtön a tavalyi kettő után. Hiába, ha elkap a kreatív rosszkedv... Most is kíméletlenek, lehangolóak, de közben lendületesek és iróniától sem mentesek. Sonic Youth- és ilyesmi rajongóknak egy újabb jó kis borongás Amerika lepukkant oldaláról. Nem korszakalkotó, még csak nem is változatos, de olyan jólesik a sok popmaszlag között.
Eagulls: Ullages – 2016
2014-es, sok dühös kiabálást tartalmazó, feszes posztpunk albumuk után az Eagulls váltott egyet, ami teljesen érthető, hiszen akármilyen megragadó is volt ez a debütáló energia, azért mégiscsak skatulyát jelentett. Úgyhogy visszavettek, és robbanások helyett kapunk egy csomó középtempós, és saját rosszkedvébe fulladó számot, amiket ugyan jó hallgatni, főleg ha Cure-rajongó az ember, de azért a nagy masszából kiemelkedhetne néha valami. Sebaj, még mindig tehetségesek, szimpatikusak és rosszkedvűek, és ez elég ahhoz, hogy továbbra is velük maradjunk.
Yak: Alas Salvation – 2016
Londoni trió debütálása karcos gitárhangzással, sodró dobokkal, megidézve sok protopunk, garázsrock, zajos alternatív zenekart, néha meg még psych-popos is. Szóval, változatos, energikus, kortárs múltidézés.
FEWS: Means – 2016
Finom, indie-s posztpunk debütáló album a malmöi bázisú, de amúgy elég nemzetközi összetételű bandától. Lehet táncolni is, borongani is, de nincsenek nagy mélységek és nagy magasságok sem, a saját hang megtalálásába is kell még energiát fektetni. Viszont van benne lendület, báj, ízlés, és ez elég, hogy kedvelhető legyen.
Oscar: Cut And Paste – 2016
Oscar Scheller egy kedves fickó kellemes baritonnal, aki tele van fülbemászó dallamokkal, és képes olyan gitáros brit popszámokat írni, hogy az ne tűnjön fárasztónak, és a nyilvánvaló Morrissey- és Blur-hatások ellenére se tűnjenek egyszerű koppintásoknak. És ez nagy szó akkor is, ha még nincs a nagy elődök szintjén, mondjuk akár a szövegek terén sem. Bő fél óra könnyed kikapcsolódás, szolid bólogatás, fiatalság.
És akkor a magyarokról...

Te jó ég, mennyi hallgatásra érdemes magyar zene jön ki idén, még mi is csak kapkodjuk a fejünket! Bírtuk a Kamikaze Scotsmen nagyon jó ízléssel összerakott, változatos és komor kísérletező rockját, az Agavoid sötét, downtempós és iamyank profi, atmoszférateremtő elektronikus zenéjét, a Hello Hurricane Foals-os jegyekkel rendelkező, érzelmes, patetikus angolszász indie-jét, az Anton Vezuv borongós, érett, szép, néhol folkos újdonságát, és tök rendben van, csak hozzánk kevésbé áll közel a Meztelen Diplomaták jó értelemben vett, pozitív energiákat árasztó magyar nyelvű indie popja, a Képzelt Város magyar szöveges, néhol csellós, nagyívű posztrockja, a Twentees ambíciózus, slágerességre törekvő, ugyancsak többnyire magyar szövegű indie rock-ja, Gézakékazég amúgy szimpatikus tinglitanglija, a HEGY instrumentális posztmetál/posztrock zúzása, az I'm With The Monkey angolszász szoft rock-ja vagy Desdemona Dæne kísérleti zajzenéje. Kiemelten pedig:

Gustave Tiger: Chaste And Mystic Tribadry - 2016
Házi kedvencünk új lemezén is sajátos, történelmi témájú szövegekkel terhelt, zajos-punkos stílusát hozza sok rövid, odacsapós számmal és némi kísérletezéssel. Új elem például a magyar szöveg (igaz, csak egy számban), amire nem is találhattak volna jobb embert basszerosuknál, Hó Mártonnál, illetve elég feltűnő a fúvósok szerepeltetése, ami nem is rossz ötlet, bár van, ahol majdnem ska-punkos fílinget ad, de akad dubos szám is, és ha már átmentünk a stíluskeveredésre, sötét posztpunk vagy akár Pixies-re hajazás is szerepel. De a legmeghatározóbb élmény mégis a punkos darálás, amiből talán túl sok is akad, hiszen ezek a nagyon rövid számok nehezen megkülönböztethetőek és nagy mennyiségben koncerten is fárasztóak, ráadásul szerintem a szellősebb számokban jobban kijönnek a zenekar erényei. Többen mondták is, hogy egyben nagyon sűrű az album (és az idei Rakéta Fesztiválos albumbemutató koncert is az volt), de szerencsére akadnak azért lélegzetvételek, úgyhogy ki tudja, lehet, hogy legközelebb a tömörítés helyett a lazítást választják. Erika éneke az enyhe önismétlés mellett is magával ragadó, a srácok pedig mindent megtesznek, hogy ötletekkel, zajokkal, lendülettel dobjanak fel minden egyes számot. Mivel a zenekar alapja, Dorozsmai Gergő révén a felvételek a Tom-Tom Stúdióban készültek, így nem kell túlzottan lo-fi, tompa recsegésre számítani, ami szintén nagy előny. Összességében: az új Gustave Tiger-album nem okoz csalódást – letarol, beszippant, fülzúgást okoz, és megadja az örömet, hogy létezik ilyen Magyarországon.

Fran Palermo: Razzle Dazzle – 2016
Második lemezét jelentette meg a még mindig sok tagú és még mindig nagyon fiatal Fran Palermo, ráadásul biztosan az év egyik legjobbját itthon. Kavarog itt több stílus is az afrósabb ritmusoktól a garázsosabb lendületig, ami azonban összefűzi mindezeket, az a pszichedelikus (és sokszor a Stone Roses-ra és hasonlókra emlékeztető) alaphozzáállás, na, és persze, a dalszerző, Henri Gonzo és a többiek tehetsége. Sok ötlet, megkapó refrének, magabiztosság. Az életteliség érdekében a ritmusszekciót néhol előrébb lehetett volna tolni, és 1-2 számban benne ragadt a kirobbanás (ami a záró Fritz Rock-ban aztán ki is jön belőlük), de ez egyéni ízlés kérdése, élőben ezek is megvalósíthatók.

Norbert Kristof & Nagy Bence: Just The Way – 2016
Ez csak egy kétszámos együttműködés a Normafa Records szekerét toló, Belle Belle-ként ismert Nagy Bence (Normafás interjúnkat vele ITT találhatod) és a hosszú évek alatt már szólóban és különböző formációkban (American Mercury, Sobieski) is bizonyító dalszerző-énekes, Kristóf Norbert között, de az egyértelműen kiderül belőle, hogy utóbbi melankolikus szövegvilága és előadásmódja mennyire illik egy finom szintis, elektronikus alapra. Sérült, érzékeny, de nem lehangoló, inkább ölelő-együttérző.