Nem ütöttek igazán a nagy nevek újdonságai Iggy Poptól a Primal Screamig, viszont meglepetés akadt pár – most több magyar is, mint általában, amitől egy picit elviselhetőbb itt élni. A leírtaknál lényegesen nagyobb mennyiségű indie/alternatív, illetve vonatkozó elektronikus albumot futottunk át, és ha még egy szimpatikus-lagymatag psych pop anyagot meg kell hallgatnunk, azonnal alapítunk egy harapós posztpunk bandát...  Kattints a linkekre: az albumcímek és az előadók nevei Deezer/Bandcamp/YouTube elérhetőségre visznek, fülelj, találj új kedvenceket!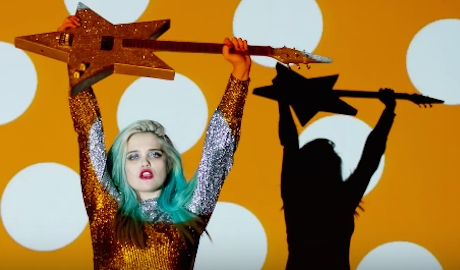 De kezdjük az alján. Nem is igazán emlékszünk az óceán mindkét partján listavezető The 1975 félmeztelenkedő, felháborítóan semmirekellő popjára, a Miike Snow is sajnos az Animallel marad ismert, a belga Hooverphonic soros, kellemes indie popja eseménytelen háttérzene, Kim Gordon Glitterbustja és a Boris Merzbow-val (nem együtt játszva) a kísérletezés számunkra idegőrlő körei, a The Coral illedelmes psych popján pedig elszunyókáltunk, pedig a linkelt szám is tök okés. Ahogy elmegy a Yuck lötyögős amcsi indie rockja, a Coastgaard neoszörf elemeket álmodozós mai indie-be vegyítő újdonsága vagy Smith Westerns-es Cullen Omori meglepő, kedves/psych-pop gyűjteménye is.  M. Ward americanás indie-je, a Nada Surf felmelegített powerpopja, a Beta Bandes Steve Mason csökkentett energiájú szólója, a legendás Violent Femmes kocsmába és zsúrokba való folkos dalai mind túl felnőttesnek tűnnek. Külön csalódás az ex-Vivien Girls Katy Goodman újabb anyaga La Sera néven, ezúttal férjével együtt, minden garázsos-zajos báj nélkül, jólfésülten. Még új Skunk Anansie is megjelent! Santigold pedig nem rossz, de nem igazán ide való.
Amiket szívesebben hallgattunk:
Primal Scream: Chaosmosis - 2016 (az énekes épp kifakadt a streamszolgáltatókra, valószínűleg ezért nincs link a teljes albumra)
A The Jesus & Mary Chain egykori dobosa, Bobby Gillespie a Primal Screammel ott sertepertélt az indie pop megszületésénél 1986-ban, aztán az egyik legsikeresebb, az elektronikus zenét gitárokkal keverő psych pop zenekarrá váltak a 90es évek elején, majd sötétebb, sokszor nagyon is elektronikus irányba mozdultak, persze jó néhány viszonylag felesleges kitérővel, most pedig, 11. stúdióalbumukkal a 21. századi pop sekélyes világába tenyerelnek, ami megint teljes irányváltás az előző, kicsit nehezen emészthető, cserébe zsenialitással teli előző albumukhoz képest. Én ugyan a gonoszabb, politikusabb, szenvedélyesebb Primal Scream híve vagyok, de nyilván nekik is kell a móka néha. Úgyhogy hónuk alá csapták Sky Ferreirát és a HAIM-lányokat, és mertek önfeledtek lenni, ami legtöbbször, ha nem is kiemelkedően, de azért jól sikerül, kivéve a Carnival Of Fools című számot, arra nincs mentség. Megidézik több korszakukat is, de csak úgy jelzésértékűen. Rövid, könnyen fogyasztható, és ha nem is egy a nagy albumaik közül, azért rendben van.


Underworld: Barbara Barbara, we face a shining future - 2016
Az elektronikus zene feltétel nélkül tisztelendő veteránjai ezúttal érzelmesebb hangulatban készítettek lemezt: nem döngenek megbabonázó house-himnuszok, bár nagyon feszesen (szinte Mark E. Smith-esen, de lehet, hogy ez túlzás) indítanak, az egészből inkább valami indie electronic kifejezéssel is jellemezhető dolog lett. Ami akár az egyik legjobbjuk is lehetne, ha a csupán 7 számból 3 ne lenne viszonylag elhanyagolható, ami azért majdnem a fele. Kár, mert a maradék négy megmutatja, miért is olyan nagyok ők, és megidéz pár régi szép Underworld-csodát. (Az egyébként megvan, hogy a közelmúltban Brian Enóval közösködő énekes-multiinstrumentalista Karl Hyde már 59 éves lesz májusban?)
Iggy Pop: Post Pop Depression - 2016
A 68 éves legenda fejet hajt nemrég elhunyt barátja, David Bowie előtt nemcsak szövegeivel és a közösen készített első Iggy Pop szólalbumok (The Idiot, Lust For Life - 1977) világának megidézésével, de azzal is, hogy hozzá hasonlóan új utakat keres még mindig. Ehhez olyan nagy neveket talált meg, mint az agyas rocker Josh Homme (Queens Of The Stone Age, Eagles Of Death Metal stb.), Matt Helders az Arctic Monkeys-ból és Dean Fertita (The Dead Weather, Queens Of The Stone Age). Josh Homme jelenléte abszolút felismerhető a gitártémákon, jól kiegészíti koros kollégája emékezéseit, morfondírozásait. Nem olyan elsöprő erejű, energiájú, mint Bowie búcsúja, de talán ez nem is egy végső album, meg azért méltó megcsillanás ez. Nagyon felnőtt, megfontolt okosrock.
Tiga: No Fantasy Required - 2016
Amikor a Bugatti című szám kijött még 2014 őszén, biztos voltam benne, hogy a következő Tiga album lesz az év egyik legstílusosabb mókája, hiszen legyen szó electropopról, technóról vagy bármi hasonlóról, Tiga ízléssel, humorral és tehetséggel áll hozzá. Ez, persze, így van most is, de jó pár szám már hónapokkal a megjelenés előtt ismert volt, a többi pedig, Matthew Dear vagy Hudson Mohawke ide vagy oda, bár szórakoztató, főleg rajongóknak, de azért nem elég erős. Minden számban megvan ugyan a potenciál, hogy üssön, de valahogy kihasználatlan lehetőségek maradnak a végén. Kár, de ettől még szeretjük.
Witching Waves: Crystal Cafe - 2016
A 2014-ben zajos indie poppal bemutatkozó londoni trió mostanra megkeményedett, és némileg posztpunkosra vették a figurát. Egyszerre ideges, dühös és fülbemászó – van benne annyi energia, hogy kiemelkedjen a sok hasonló közül. Kár, hogy túl sok benne az unalomig megszokott stíluspanel, és talán az énekkel is gondok vannak néha, de attól még megéri meghallgatni, tuti 1-2 szám a füledben marad!
Holy Wave: Freaks Of Nurture - 2016
Egy igazán hátradőlős pszichedelikus-álmodozós csemege a texasiaktól, aminek a számait 1-2 hallgatás után nehéz megkülönböztetni, de nem is ez a lényeg, hanem az egységes hangulat, ami egyszerre előny és hátrány is. Nem unalmas, de nem is fejfelkapós – indítsd el, bámulj mélyen a messzeségbe, és erre a pár percre ne csinálj semmi fontosat. Megcsináltad? Jó, mi? Ez egy jópofa minimalista klip, van azért nem ilyen elfolyós szám is:
Prince Rama: Xtreme Now - 2016
Ez egy elég zavarba ejtő album, mert nem elég hogy keveredik benne disco, new wave, garázsrock, satöbbi, de minden nagyon öntörvényűen, könnyedén, megragadóan, pozitívan. Egyszerre érzem, hogy ez nem nekem való poplötyögés, és tök érdekes kísérletezgetés. A tagok mind egy floridai Krisna-farmon nőttek fel, mondjuk, ez önmagában nem fura, de állítólag az alapító Larson-nővérek egyike valami sajátos idő-skizofréniát átélve, párhuzamos idősíkokat megtapasztalva jutott az album elkészítéséig (ennél hosszabb a sztori amúgy), ami lehet, hogy kamu, de akkor is elárul valamit. Na, mindegy, még az is lehet, hogy nagyon megszereted.
James: Girl At The End Of The World - 2016
Az 1982-ben (!) alakult, Morrissey-barát, és egykor második Smiths-ként emlegetett James legnagyobb sikereit a 90-es években érte el, de Tim Booth egyszerre intim és stadionkompatibilis énekét nem kellett hanyagolni azóta sem: legutóbb két éve adták ki soros, szokásosan megfelelő minőségű, néhol folkos adult alternative albumukat. Bár ez az új anyag azért nem hozza teljesen vissza a régi, legendás időszakot, és a hosszú évek alatt sokféle megítélés alá estek, úgy látszik most újra megtalálta őket a siker, egy közelmúltbeli interjúból kiderült, hogy Adele-t szorongatták épp az angol albumlista első helyén (nem tudom, sikerült-e letaszítani, de őket se nagyon érdekelte). A lágy számokhoz most elektronikus elemek is társulnak, néhol még táncosan is, úgyhogy ha készen állsz a stadionérzelmekre, hajrá.
The KVB: Of Desire - 2016
A posztpunkkal és a shoegaze-zel kísérletezgető angol duó mostani lemeze jelenősen elmozdul a vintage szintik felé (amik egyébként a Portisheades Geoff Barrow gyűjteményéből származnak), így néhol egészen coldwave-es lett a végeredmény. Kár, hogy a nagyon erős első két számot nem igazán tudja követni a többi, így inkább a sötét, hideg hangulat marad, mint igazán emlékezetes momentumok. Az irány érdekes, talán legközelebb markánsabbra sikerül. A Place To Bury Strangers és The Soft Moon rajongóknak erősen ajánlott.


B Boys: No Worry No Mind EP - 2016
Punkalapú garázsos vehemencia Brooklynból. Nem minden szám kiemelkedő, és akár el is veszhetne a hasonlóak tömegében, de valahogy a hozzállás, a hangulat szerethetővé teszi.


Death Index: Death Index - 2016
A Merchandise-os Carson Cox összeállt egy olasz hc-punk arccal, Marco Rapisardával, és a pofánkba toltak egy kemény riffekkel teli, hanyag énekkel savanyított, szupergyors számokkal telepakolt albumot a zordabb napokra.
Public Memory: Wuthering Drum - 2016
A brooklyni Robert Toher szólóprojektje, hogy a világra eresszen egy jó adag sötét hangulatú elektronikus zenét. Egységesen klausztrofóbiás hangulatú, ajánlott egyben meghallgatni. Massive Attack-rajongóknak valószínűleg tetszeni fog.
Thao & The Get Down Stay Down: A Man Alive - 2016
Bolondos-kedves, a 90es éveket idéző, de azért modern alterpop jópofa, meglepő ötletekkel a tUnE-yArDs Merril Garbusának producerkedésével. Csajos hangulathoz, a hónap egyik legjobb számával.


Amiket még jobban megkedveltünk, mert kellemes meglepetések voltak:

Mind Spiders: Prosthesis - 2016
Texasi szintis, garázsos, pattogó posztpunkos melodramatikus, ideges énekkel. Nincs túlbonyolítva, nem okoz nagy meglepetést, de nagyon jók az arányok, és sodró energiája van. Nem tudtam beágyazni, de EZ a kedvenc.


Crescendo: Unless - 2016
Los Angeles-i fiatalok második, dream popos, shoegaze-es albuma tele finom, fátyolos, de fülbemászó és tempós számmal. Cuki, keserédes, érzékeny. Elég tipik, és hallhattunk már sok ilyesmit, de kit érdekel, honnan loptak, ha hihető és elkap a dolog.
És a magyarok, akiket most külön vettünk, mert így jobban látszódik, mennyi szuper zene létezik manapság itthon:
Camp Koala: Why Art? - 2016
Házi kedvencünk, a 90es évek zajos zenekarait tovább éltető, punkos-posztpunkos, feminista Camp Koala tavalyi Demo EP-jét már ajánlottuk annak idején, sőt, 2015-ös bestof mixünkben is szerepelnek. Most pedig végre itt a debüt album, ami annyira nem is különbözik az elődjétől, hiszen az utolsó két, igazi érdekességként szolgáló remixen (a Mayberian Sanskülotts gitárosának elektronikus újragondolásai) kívüli hat számból kettő azon is szerepelt (plusz kettő még a Pepi Rösslerrel kiadott split EP-n), igaz, más verzióban, és a talán túlságosan is lo-fi hangzás is maradt, stúdió ide vagy oda. Magyarán: az eddigi rajongók sok újdonságot nem kapnak, és nem is szól jobban, mint az eddigiek. De. A Camp Koala úgy énekel elnyomásról, kényszerhelyzetekről, és veszi át zeneileg a zajos nagy elődök (pl. Sonic Youth, de sorolhatnánk egy csomót) fülbemászó oldalát, hogy instant DIY-himnuszok születnek, amiket ha ötször egymás után kiadnának, azt is ajánlanánk. ITT egy informatív cikk róluk, ha még nem tetted, szeress beléjük azonnal!
Pigeoncoma.: Third self-titled - 2016
A 2012-ben feloszlott marionette ID romjain alakuló együttes debütáló albumával és néhány jól megválasztott koncerttel pár hét alatt megkerülhetetlennél vált ebben a szűk kis underground közegben, és nem hiába. Ugyanis legnagyobb előnyük amellett, hogy képesek emlékezetes számokat írni, hogy azokat a hatásokat, amik többsége külön-külön talán elijesztenének (emo, poszt-hardcore, túlzó amcsi indie rock például), olyan jó arányérzékkel gyúrják össze pár rövidke, de hiányérzetet nem hagyó, nyílegyenes számba, és teszik hozzá a magukét, hogy azonnal bárkit meghódítanak, aki valamennyire is szereti a fősodortól eltérő gitárzenéket, nevezhetjük indie-nek is. Figyelem: az utolsó számban sem Brian Molko énekel! (Olvass róluk többet: ITT!)
Berriloom - Discontinous Man - 2016
A név a Normafa Records egyik alapítóját, Déri Ákost rejti, aki bele is illik a most nagyon erős magyar énekes-dalszerző színtérbe, meg nem is. Abból a szempontból igen, hogy az ő személyén alapul a Berriloom, de, ahogy nyilatkozta, a többiektől eltérően nem magát szeretné magyarázni a dalaiban, és a hangulat is sokkal sötétebb, ráadásul néhol elektronikus is, talán a Notwist is eszedbe juthat. De van, ahol meg shoegaze-es. Szóval nem egy tipikus egyszálgitáros. A hangulat egységes, a kísérletezőbb dolgok is beleférnek ebbe a szépséges borongásba. Egyetlen dolog zavaró talán, mégpedig a dobgép: túl erős és bárdolatlan hangok, témák, amik zavarják az amúgy szuper körítést. De ha így is van, ne erre figyelj.
Duke Bluebeard: Friend Or Foe‬ - 2016
A Lone Waltz Records-alapító Á.D. Lukács Magyarországon szokatlan minőségű folkpopja, az az igazi, tábortűzhöz képzelhető egyszálgitáros, és furcsa, de azt kell mondanom, hogy a lehető legjobb értelemben. Érzékeny, átélhető, bele lehet feledkezni. Egy csipetnyi sóhajtós révedezés. (Érdekes adat, hogy korábban együtt zenélt a Camp Koalás Neményi Lillával a Girls Say Yes-ben, erről szól az L. N. (No Forgiveness).)
Meghallgattuk a dUNA Ravatal EP-jét is, tegyél vele te is próbát, egy keményebb cucc sok kajabálással.