2016 januárját természetesen David Bowie uralta, és ez valószínűleg akkor is így lett volna, ha nem lép ki testéből és tér vissza a saját bolygójára. De a kortárs posztpunk legkeményebb csajaitól Sting lányáig azért akad pár album, ami kellemesebbé tette ezt a hónapot. Na, meg pótoltunk is tavalyról 1-2-t, nem írunk mindről. Kattints a linkekre: az albumcímek és az előadók nevei Deezer/Spotify/YouTube elérhetőségre visznek, találj új kedvenceket!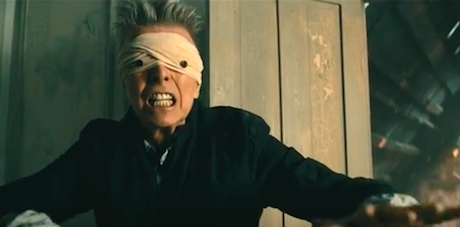 Persze, végigszaladtunk a jelentősen átalakult Bloc Party sehol sem zavaró, de szinte teljesen jelentéktelen indie popján, a szintén szebb napokat megélt Bloodhound Gang titokban néha vicces, infantilis idiótaságain, a Shearwater, a Tindersticks, a The Besnard Lakes, a Mystery Jets soros, tisztességes, de nem túl izgalmas albumain vagy a Chairlift csajos-szintis, a Quilt érzékeny, psych-popos, folkos, szerethető indie-jén is, és még néhány megjelenésen,

amiket azért kiemeltebben ajánlunk:

Cage The Elephant: Tell Me I'm Pretty - 2015
A Kentucky-ból származó együttes tavaly év végén megjelent új albumának elkészítésében a The Black Keys-tag Dan Auerbach segédkezett, és az energikus, ideges kirohanások elmaradnak. Letisztult pszichedelikus popdalokat kapunk, ami érdekes váltás, ráadásul tényleg szép munka. Csak, hát, így olyanok lettek, mint a többi ilyesmi zenekar, néha azt se tudtam, kiket hallgatok, a legslágeresebb dal példul a Kasabiant idézi. Mindenestre kellemes időtöltés.
Fat White Family: Songs For Our Mothers - 2016
Máris megvan 2016 legdekadensebb albuma? A londoni Fat White Family energikus fellépéseiről, drogproblémáiról, balhéiról híres, ez az album pedig olyan, mint amikor mindezektől kimerülten, nihilistán a földre rogysz. Provokálnak azért most is Göbbels-szel, Ducéval, de olyan szétcsúszottan, mint ahogy egy elkenődött szemfestékű junkie kászálódik ki a sikátorból a buli utáni reggel. Pszichedelikus, zajos, a Velvet Undergroundot juttathatja eszedbe. Nem egy népszerűségre törekvő anyag, sőt, néha az elviselhetetlenségre hajt, nem is túl változatos vagy éppen mestermű. De ha el akarsz veszni a hanyatló nyugat pompás romlottságában, itt az alkalom.


Suede: Night Thoughts - 2016
A sikerei csúcsán a 90-es években tündöklő britpop legenda 2013-ban tért vissza egy hosszabb szünet után a Bloodsports-szal, ami ugyan nem volt tökéletes, viszont akadtak rajta szerethető számok. A Night Thoughts bár grandiózusabb, jobban összeszedett, mégis kevésbé tudtunk azonosulni vele, noha a dalok már rég nem a dekadens fiatalságról szólnak, sokkal inkább hétköznapi emberek problémáiról. Brett Anderson rengeteget áriázik, és bár a sok nagyívű ópusz közé szorultak lazító számok is, valahogy most azok sem másztak a fejünkbe. Azért a Suede-et mindig jó hallgatni, és öröm, hogy a poszt megírásakor Angliában a hatodikak az eladási listán.
Daughter: Not To Disappear - 2016
Szépséges, fájdalmas finom dalok mélyebb pillanatokra, amikor szükség valakire, aki megérti. Egy nagyon szép hangú énekesnővel, Londonból.


Tricky: Skilled Mechanics - 2016
A trip-hop veterán csak úgy ontja magából az albumokat, ami nem baj, de azért néha jobb lenne szelektálni. Aki szereti a tricky-séget, nem nagyon fog csalódni most sem, max. ha zeneileg valamilyen nagyon mélyre taszító súlyosságot várt. A Skilled Mechanics tulajdonképpen egy sok kollaborációt magába foglaló projekt, mégis nagyon személyes szövegek is találhatók rajta pl. öngyilkos édesanyjáról vagy a 12 évesen megkeresett apjáról. A hangszerelés elég minimalista, talán túlságosan is, és nehéz igazi kedvencet találni rajta, úgyhogy jobb egyben hallgatni, és csak örülni, hogy Tricky ontja magából az albumokat.
Massive Attack: Ritual Spirit EP - 2016
Ha már Tricky és trip-hop veteránság, akkor itt az új Massive Attack EP négy dallal, négy közreműködővel, köztük vele, akivel kezdték az egészet. A hangulat természetesen most sem vidám, de azért nem is olyan vészes. Pont jó bevezetés a további számok elé, amiket beígértek (vagy beígért 3D) idénre. Jöhetne velük egy trip-hop revival igazán... (Apropó, az új Portishead is jöhetne már, nem?)


City Calm Down: In a Restless House - 2015
The National és Editors rajongóknak célzott ausztrál debüt album érzelmes baritonnal, 80as évekből merítkező, szintis-gitáros, nagyot markoló popdalokkal.
Hinds: Leave Me Alone - 2016
Cuki, madridi, lo-fi garázspop csajbanda debütáló albuma. Felkapottak lettek az utóbbi 1-2 évben, de ahhoz, hogy tartsák a hájpot, ennél izmosabb anyagot kellett volna összehozniuk. Nem igazán tűnik ki a sok hasonló közül, és túl lo-fi is, ami engem mint hallgatót például idegesít. Akkor miért írunk róla? Hát, mert cukik, madridiak és csajok.


Pop. 1280: Paradise - 2016
Ahogy a Needle Drop-os Anthony Fantano mondta, ha valaki egy zenés rémálomra vágyik, ez az ő albuma. A brooklyni zenekar 3. albuma valóban nagyon súlyos: indusztriális, dark, pokoli energiákkal teli. Kérlelhetetlenségében csak a Swans-hoz mérhető, kizárólag annak ajánljuk, akinek van türelme és késztetése a legmélyebbre alászállni sötét gondolatainak bugyraiban.


És amiket legkiemeltebben ajánlunk:

David Bowie: Blackstar - 2016
Megjelenésének napján azt magyaráztam egy kocsmapult mellett, hogy jó számok, de ha a hangszerelés tökösebb lenne, ez még jobban kijönne. Aztán két nap múlva jött a sokk: a 69 éves legenda, Bowie halott. És már nem volt bajom a hangszereléssel. Csak örültem, hogy ezt még hallgathatjuk, mintegy búcsúajándékként, és így utólag egyes klipek/szövegek jelentésére is fény derült (ld. Lazarus). Bowie hatása a popkultúrára (és rengeteg személyes sorsra) óriási, nem is mennnék bele most. Egyszerre volt popsztár és alternatív kísérletezgető, és így állt hozzá utolsó albumához is, amit jazz-zenészekkel vett fel, és egyáltalán nem olyan, amire bárki számított volna. Szó sincs illedelmes, öreges dalok tömkelegéről, még ha a második fele el is lágyul. Kísérleti popzene, ahogy ezt csak ő tudta. Ha nincs a tragédia, ez az album akkor is tarolja a januárt. (Egyébként a hírek szerint nem biztos, hogy ez az utolsó új zene, amit hallunk tőle, mert azért reménykedett, hogy nem ez lesz a búcsú, így akad még pár felvett szám.)
Savages: Adore Life - 2016
Óriási várakozás előzte meg a londoni, kőkemény posztpunk csajok második albumát, hiszen a debütáló Silence Yourself nemcsak a műfaj egyik csúcspontja volt 2013-ban, de még az angol eladási lista 19-ik helyéig is felkúszott, így nyugodtan nevezhetjük zajos berobbanásnak. Az Adore Life-fal a kijelölt ösvényen haladnak tovább: nagyon szigorú, hideg, patetikus, mégis emberi számok találhatók rajta nagy bölcsességekkel, érzelmekkel, zaklatottsággal. Nem tették magasabbra a lécet, inkább csak magabiztosabbak, talán hiányzik is egy igazi táncbomba (mint az előzőn a City's Full) vagy egy igazán delejező momentum (akár a Fuckers), de így is lehengerlő. A francia énekescsaj, Jehnny Beth (igazából Camille Berthomier) hatása alól pedig még akkor is nehéz kivonni magunkat, ha kicsit már túlságosan is komolyan veszi magát (ILYEN az, amikor nem).
Eliot Sumner: Information - 2016
Sting lányának második albuma a 2010-es I Blame Coco néven kiadott után. Hat év hosszú idő, Eliot pedig arra használta, hogy tényleg kiforrjon benne a stílus és a mondanivaló. A nyolvanas évek szintis-gitáros, de nem csiricsáré popzenéjének hatása a legnagyobb (na, persze, zajosabb, illetve korszerű elemekkel is vegyítve), és tényleg sikerült is összedobni pár kiemelkedő számot. Ám valójában az előadó személye, ami különlegessé teszi az egészet. Kezdve az egyedi, androgün énekhangtól, amit ha csak fél füllel hallgat az ember, nemcsak férfias hatást kelt, de konkrétan mintha Sting vendégénekelne, egy fura Sting. És egyáltalán: az eleganciája, a stílusérzéke, a mélysége... Én azt szeretném, ha az indie pop kifejezésnek ilyen lenne a tartalma.
Ty Segall: Emotional Mugger - 2016
Okozhat-e izgalmat az elképesztően munkamániás Ty Segall annyi kiadott anyag után? Hallottuk, hogy tud glam rockot játszani, hogyan nyúl a hard rockhoz, a pszichedéliához, garázs rockhoz, punkhoz vagy akár az akusztikus hangszereléshez hol nagyon lo-fi hangzással, hol kevésbé. És, hát, meglepőt ugyan nem dobott, de azért megint tekert egyet a glam rockos, lo-fi garázsrockos számokon, egyrészt a hangzással, másrészt a vehemenciájával. Ez az album még akkor is magával sodor valami kora 70-es évekbeli, színes koolfelhőbe, amikor épp nem annyira érdekes. És ez a titka Ty Segallnak: akkor is elképesztően menő, ha épp nem zseniális.