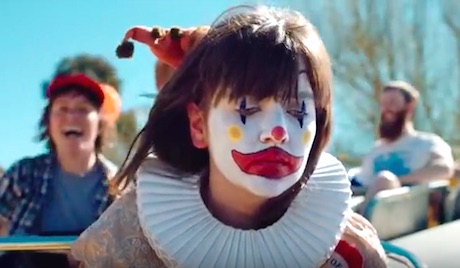 NÉHÁNY pöpec, főleg gitáros indie/alternatív megjelenés 2015-ből egy monstre, több, mint kétórás mixben, ahogy azt szoktuk. Garázsrock, indie punk, posztpunk, dark pop, satöbbi, satöbbi, és persze, 1-2 magyar DIY gyöngyszem is. Hol rádióbarát, sőt táncos, hol zajos, karcos, dekadens. Amolyan bestof, amiből jócskán maradtak ki penge számok, de most ennyire tellett. Ha tehetitek, ne feledjetek vásárolni is kedvenceitektől!

45 Fine Indie/Alternative Moments Of 2015 (by viorelPOP):
UNDorgrUND Mixtapes: 45 Fine Indie/Alternative Moments Of 2015 (by viorelPOP) by Undorgrund on Mixcloud
Itt a teljes tracklista:
Hanni El Khatib: Moonlight
Blur: Go Out
Slaves: Cheer Up London
Courtney Barnett: Pedestrian At Best
Best Coast: Heaven Sent
Wavves: Way Too Much
Lost Boy ?: Hollywood
Mike Krol: La La La
Peach Kelli Pop: Princess Castle 1987
Cold Beat: Outrunning Shadows
Sauna Youth: Transmitters
Diät: Toonie
Pow!: Liquid Daydream
Institute: Admit I'm Shit
Primitive Parts: Dust
Royal Headache: My Own Fantasy
White Reaper: Last 4th Of July
Best Friends: Nosebleeds
Menace Beach: Tastes Like Medicine
The Fireworks: Runaround
A Place To Bury Strangers: Straight
The Soft Moon: Far
Girls Names: Dysmorphia
Protomartyr: Dope Cloud
Flesh World: Just To Tear Me Down
Camp Koala: Don't
Shopping: Straight Lines
Soko: Ocean Of Tears
The Garden: Egg
of Montreal: Bassem Sambry
Deerhunter: Snakeskin
Lower Dens: To Die In L.A.
Balthazar: Then What
Breakfast In Fur: Shape
Wolf Alice: You're A Germ
Aloa Input: Blabla Theory
Milky Wimpshake: Sexual Deviant
Shot In The Neck: The Real Wild Child Is Gone
Moon Duo: Animal
Vlasta Popić: Szeged
Umreti Fit: Okean
Metz: The Swimmer
Chelsea Wolfe: Carrion Flowers
IAMX: Oh Cruel Darkness Embrace Me
Marilyn Manson: Third Day Of A Seven Day Binge
Korábbi mixeink: ITT!