Az év legjobb albumait összegző, kötelező hülye poszt előtt még egy pár idei megjelenést azért csak ajánlunk, ne vesszenek már el a nagy évzárásban. Fülbemászó indie punktól letaglózó dekadencián át magyar újdonságokig itt egy pár album, amit szívesen hallgattunk novemberben, persze, az is kafa, ha új Ringo Deathstarr-album jelenik meg vagy éppen Ty Segall összeszedi T-Rex-feldolgozásait, de érdekes Grimes popvirágzását is figyelemmel kísérni. Az albumcímekre kattintva az egész albumot megtalálod (vagy amennyit engednek), a beszúrt videókkal pedig gyorsan képbe kerülhetsz.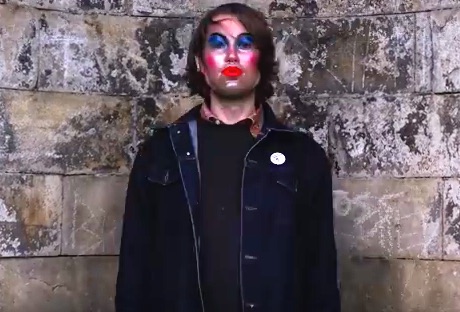 Sauna Youth: Distractions - 2015
Londoni indie punk, posztpunk, ha úgy tetszik. Fülbemászó, energikus, karcos, az egyik legszórakoztatóbb album idén, ráadásul elejétől a végéig - egyébként még júniusban jelent meg. Tagjai igazi DIY-arcok, és több együtesben is részt vesznek, egyikük pl. a korábbi albumajánlónkban is említett Primitive Parts-ban két Male Bonding-tag mellett. Ha rendeznénk egy koncerttel súlyosbított házibulit, amin táncolni is szeretnénk, őket hívnánk ebben a pillanatban.



Spray Paint: Dopers - 2015
Az austini Spray Paint második albuma az egyik legdekadensebb art-punk/posztpunk album idén. Meghallgatod, és elidegenedsz, minden ellenségesnek és szarnak tűnik. Aztán vége, és rájössz, hogy a mélyrepülés szórakoztató, bár mi tagadás, a világ tényleg elég szar. De azért mégsem annyira, mert például vannak ilyen albumok. Amit kéregető junkie-k lehangoló közelségében, sivár környezetben, egy non-stop kaszinó büféjével túlélve, rövid idő alatt vettek fel. Na, szóval, mindazoknak, akik szeretik jó mélyre lökni magukat, hogy végül így lélegezhessenek fel. (Az egész albumot én a poszt megírásakor nem találtam sehol beszúrhatóan, így ITT van még egy szám, bár ha rajtam múlott volna, nem ezt linkelem.)


Cheatahs: Mythologies - 2015
Tavalyi, általunk is ajánlott debütáló albumuk óta idén két remek EP-jük is megjelent (Sunne, Murasaki), és év végére még ránk zúdítottak egy teljes stúdióalbumot is. A londoni központú, de nemzetközi összetételű Cheatahs kikacsintgató shoegaze-s, dream popos zenéje, persze, sokban hasonlít pl. a My Bloody Valentine-ra és még sok más elődre a 90es évek legelejéről, de ők ezeket a hatásokat hitelesen és saját hangjukon tudják átmenteni a 2010-es évekbe. A Mythologies nem üt fejbe azonnal, nincs megasláger rajta, inkább egyben meghallgatva a legjobb, úgyhogy érdemes energiát szánni rá.



Screature: Four Columns - 2015
Az idén Budapestre is ellátogató Chelsea Wolfe említette meg őket egy interjúban mint aktuális kedvencet. Nos, a tiéd is lehet még, ha szereted a klasszik gótikus posztpunk sötét hangulatát a kötelező nyers, ellentmondást nem tűrő és nagyon drámai dominaénekkel. Ha a Spray Paint dekadens, akkor ez heroikus mélyrepülés a lélek bugyraiba. Siouxsie-rajongóknak, és azoknak, akik ki szeretnék húzni valahogy a következő Savages-albumig.



Hazai termés

Több friss, magyar albumot is meghallgattunk az utóbbi időben a Felső Tízezertől az Ivan & The Parazolon át a Csaknekedkislányig, aztán végül is hármat emelünk most ki, többnyire személyes, illetve bátorító okból, de, hát, ez egy blog és nem egy minden szempontot figyelembe vevő szaklap.

Shot In The Neck: Shot In The Neck - 2015
A blues-punk szegedi helytartóinak debütáló lemeze nagyjából visszaadja azt az elvetemült lelkesedést, robbanó energiát és férfias kocsmahőbörgést, ami letaglózó koncertjeiket jellemzi. A lendületre biztosíték a két Rákosi-tag, de az egyébként tehetséges színész Poroszlay Kristóf személye önmagában is átütő, és ha már így részletezzük a felállást, meg kell említeni, hogy a basszusgitáros egy igazi riot girl, ami már eleve menő. Az egész felvétel nagyon DIY házi barkács, de sok tapasztalat van mögötte, ezért is sikerült élvezhetőre. Az angol nyelvű saját számok közé a Velvet Underground Venus In Furs című kultikusát is feldolgozták, amit én ugyan nem tettem volna, de szimpatikus húzás, az biztos. Nagyon megtalálták a műfajok közötti arányokat és a saját pluszt, így nem pusztán stílusgyakorlat az egész, hanem hihető és szerethető jelenség.



THe pUnch: Will Way - 2015
A 2009-ben alakult budapesti együttes új albumának pszichedelikus indie rockja a sok hasonló külföldi zenekar dömpinjében akár el is veszhetne, de annyira érződik rajta az odafigyelés és a lendület, hogy hiába folyhatna el sokszor valami lagymatag tripbe az egész, még az elrévedősebb részekben is van feszesség, meg azért oda is csapnak néha. Ha alapvetően szereted, de kicsit unod már a műfajt, akkor is hallgasd meg (lehetőleg egyben), mert tök jó, hogy Magyarországon is készül ilyen, akármennyire is a példaképek árnyékában marad. Többet az albumról ITT találhatsz!



EZ Basic: Dead End Darling - 2015
A legtöbb eltitkolt slágerrel rendelkező magyar indie zenekar nagyjából visszatért az alapokhoz, amikor még egy szegedi szobában ketten bütykölték össze a számokat. Ennek megfelelően az új, elképzelt filmhez írt konceptalbum visszafogottabb, személyesebb, nem akar minden áron hódítani. Pszichedelikusként is lehet jellemezni, de talán kifejezőbb álmodozó hangulatú, légies könnyedségű indie popnak hívni. Hat vokálos és hat instrumentális darab, ha valaki nincs annyira oda a fimzeneszerű szösszenetekért, felfoghatja EP-nek is. És ha már EP: bár az ezt megelőző Memories Of Spring EP erősebben hatott (nem is beszélve a két ear candy albumról), ha vágytál már az EZ Basic finom, dream popos oldalára, akkor biztosan okoz kellemes perceket. Több infó az új albumról: ITT!