Valószínűleg a legelvetemültebb zenebuzik sem tudták eléggé követni az idei szeptember-októberi albumözönt, így mi is csak próbálkozunk néhány friss indie/alternatív megjelenésre felhívni a figyelmet a soha nem létező teljesség igénye nélkül, nem is említünk egy csomó mindent, amit még hallgattunk. Kattints a linkekre, klipekre, hátha új kedvencekre lelsz!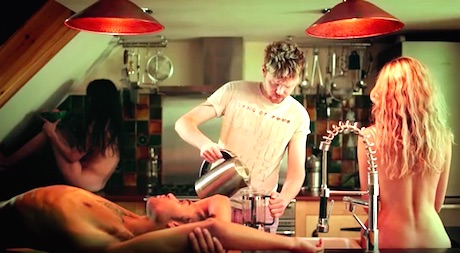 A nagy szórásba viszonylagos csalódások is kerültek, bár egyikről sem mondanánk, hogy rossz, pl.: 
• a zsenialitásból jócskán visszavett Disclosure elektronikus rádióslágerei,
• az Editors saját pátoszába fulladása, 
• az IAMX teátrális álsúlyoskodása, 
• Lana Del Rey melankolikus dalokba csomagolt ásításai, 
• a Chvrches lity-lötyi szintiparádéja, 
• az indie sztár Metric lázadása a siker ellen, 
• a legendás New Order energikusnak szánt elektronikus múltbombája vagy 
• a Neon Indian (direkt használt hülye szó:) retrofuturisztikus dizsije.
Mind szuper zenészek, úgyhogy ha van kedvetek, adjatok esélyt, részünkről ez hiába történt meg, bár a linkelt számok épp nem rosszak.
Aztán ott voltak az őszhöz illő sérülékenységet vagy éppen bátorítást tartalmazó, éppen jólesők: 
• a Beach House megszokott intimitása,

• a Wilco nyomokban zajt tartalmazó adult alternatívoskodása, 
• Kurt Vile férfias érzékenysége. 
Ők sem hiába nevesek, hátha elkapnak téged is új cuccaikkal. 
Alapvetően pozitívan állunk
• a Foals jó értelmeben vett stadionindie-jéhez, 
• az előzőhöz képest sokkal élettelibb, house-os/funkos/bulis/megújulós !!!-albumhoz,
• a Lambchop nagy öregjének elektronikus meglepetéséhez, a HeCTA-hoz,
• a Psylhouette bájos, new wave és krautrock elemeket tartalmazó dream popjához,

• a legendává válás után sok évvel visszatérő Libertines védjegyszerű kocsmaindie-jéhez, 
• a Neil's Children-vezér John Linger 60as évekbe révedező melankolikus szobapopjához,
• a Wax Idols szakítós dark popjához,
• az Algiers gospelbe és soulba mártott punk attitűdjéhez,
• Peaches túl minimalista elektrós, de Kim Gordont is tartalmazó új csapásához, 
• Jack White felélesztett projektje, a The Dead Weather zúzós visszatéréséhez, 
• Josh Homme Eagles Of Death Metaljának újabb, tesztoszterontól duzzadó viccrokkjához, 
• a Reverend & The Makers közepes briteskedéséhez,
• a legendás PiL kortársakat leköröző, nyugdíjas posztpunkjához, 
• a Girl Band néha már viccesen túl mérges zajongásához,
• a Diät dekadens posztpunkjához,
• a Wand garázsos-hetvenesrokkos idei másodikjához, 
• a The Shoes elektronikus indie-jéhez, 
• a Hibou boldog szobaindie-jéhez,
• a The Intelligence többnyire nyugis flegmáskodásához,
• a letisztult szót a szürkébbel összetévesztő garázsos-szörfös Tijuana Panthers-hez, 
• a shoegaze-es/dream popos Gliss-albumhoz,
• a 93MillionMilesFromTheSun shoegaze hagyományokat ápoló elszállt zajtengeréhez,
• a Bat for Lashes és TOY tagokból verbuválódó Sexwitch törzsi ritmusaihoz,

• a torontói Dilly Dally Courtney Love-os énekkel dúsított alternatív rokkjához,
• a Say Hi infantilis vámpírfixációjához

• vagy éppen (hogy magyart is említsünk) a Panel Surfers aktuális garázstrendhez igazodó kócos-karcos EP-jéhez, ami az ősz egyik legkellemesebb meglepetése volt számunkra.
Satöbbi, satöbbi a Here We Go Magic-től a Telekinesisen, az Oughton át Tamarynig.
Az iszonyatos mennyiségű felhozatalból nem sok került igazán közel a szívünkhöz, és többnyire ezek sem mind azért mert olyan tökéletesek lennének, hanem mert jólestek, és kész, ezúttal ABC-sorrendben (az albumcím linkekre kattintva az egész albumot meghallgathatod):
Cold Beat: Into The Air - 2015
A San Fransisco-i Grass Widow basszusgitárosának mellékprojektje egy 60as bűbájos csajbanda és egy 80as jéghideg posztpunk együttes fúziója, ahogy a Pitchfork ezt szemléletesen le is írja. És valóban kedves dallamok váltakoznak a fagyos hangulattal, előkerül a szinti is, persze. Érdemes amúgy elolvasni az említett kritikát, amiből kiderül, mennyire bassza Hannah Lew csőrét a városában végbemenő dzsentrifikáció, érdekes. Nagyon szimpatikus csaj, és azt hiszem, beszélgettem is vele már vagy két szót Szegeden, de ez teljesen lényegtelen. Kinek is ajánljam… talán a Dum Dum Girls rajongóknak ez is tetszeni fog.
Deerhunter: Fading Frontier - 2015
Aki Bradford Cox és csapatának hetedik albumán is valami megosztót, valami nagyon furcsát vagy valami nagyon elszálltat várt, annak csalódnia kell. Aki csak úgy szimplán örömmel hallgatja a tipikus, álmodozós-pszichedelikus hangzást egy sokkal nyugodtabb, egységesebb formában, az viszont kellemes pillanatokat élhet át. Ez az album nem ejt rabul egyből, ritkán történik meg a csoda, mégis sikerül behúznia a hallgatót a Deerhunter-galaxisba, nem is beszélve, hogy örüljünk, hogy létrejött egyáltalán, miután az énekest elütötte 2014-ben egy autó – nyilván ez is hatással volt keletkezésére. Kicsit több kiemelkedő pillanat azért beleférhetett volna, na, de majd legközelebb. Mert remélhetőleg a felnőttebb Deerhunter nem jelent majd unalmasabb Deerhuntert is egyben.
Girls Names - Arms Around A Vision - 2015
A belfasti Girls Names-ben nemcsak az a jó, hogy (bár korántsem tökéletes, de azért) szuper albumokat hoznak létre, hanem az is, hogy mindig próbálnak változtatni. Az első album shoegaze-es attitűdje után jött a második album meglepő, fojtogatóan minimalista, cool posztpunkja, és bár most is maradnak ennél a stílusnál, az eredmény grandiózusabb, a hangszerelés sokszínűbb. Érződik, hogy nagyot akartak előre lépni, de sajnos azért ehhez megkapóbb számok is kellettek volna. A kedvenc Girls Names számaink még mindig a másodikon találhatók, de ha nem is adja könnyen magát az újabb darab, érdemes újra és újra elveszni benne.
Mike Krol: Turkey - 2015
Négy nap alatt felvett, mindössze 18 percnyi lo-fi amcsi garázspunk sok zúzással, és nevetségesen kisszerű dolgok felnagyításával, pl. egy bicaj ellopása vagy egy kaktusz tüskéi okozta bosszúság, úgy, hogy mégsem nevetséges, hanem szórakoztató, nem kicsit. Mintha egy régi Wavves-albumot hallgatnánk.
Peach Kelli Pop - III - 2015
A nemrég Budapesten is fellépő Allie Hanlon most is azt csinálja, amihez legjoban ért: egy (egyébként még áprilisban megjelent) 20 perces albumon keresztül ömleszti ránk cukiságtól kicsattanó, fülbemászó garázspopját, és csak a legvégén hajlandó visszavenni a tempóból. Nem bonyolítja a bevált receptet különösebb változatossággal, de nincs idő megunni. Azoknak, akik szeretnének egy fésületlenebb Best Coastot hallani.


PINS: Wild Nights - 2015
A manchesteri PINS a második albumán tökéletesen vegyíti a dallamos gitárpopot a 60-as évek "wall of sound" hangzásával, amitől szinte az összes dal napokra képes belefészkelni a fülünkbe. A csajok nem cizellálják túl a dalstruktúrákat, nincsenek meglepő fordulatok, és valószínűleg ettől hangzik az egész lemez úgy, mintha egy spontán házibuli-zenekar egy napos csúcsteljesítménye került volna elénk.


Protomartyr: The Agent Intellect - 2015
Harmadik albumára érett be igazán a detroiti Protomartyr hol mérges, hol nyomasztó, energikus posztpunkja. Személyes tragédiák, az emberi lélek sötét oldala elegánsan, és most nagyon összeszedett formában. Ez egy új szint, ami talán szélesebb rajongótábort hozhat.
Primitive Parts: Parts Primitive - 2015
A Male Bonding és Sauna Youth tagokból alakult mellékprojekt bemutatkozó albuma pont olyan, mintha egy semmiből előbukkanó, kicsit bizonytalan, de nagyon szimpatikus zenekar próbálgatná a szárnyait. Van itt 60as tinglitangli/garázs, 80as college rock/posztpunk hatás, de a lényeg, hogy egyszerű, bájos és lendületes és abszolút fülbemászó, még ha eredetiséggel nehezen is vádolható. Aki a Parquet Courts-ot, és a szomszédsrácok fílingű bandákat szereti, ezt is fogja.


Royal Headache: High - 2015
Második album a sydney-i garázsrock bandától, ami hol punkosabb lendületű, hol rockosabb, de van, hogy el is érzékenyednek, az énekes pedig ugyanúgy lehetne egy soulénekes is. Van bennük kraft, az biztos. Lehet rá táncolni, sört inni, miközben kavarog a lélek.



Shopping: Why Choose - 2015
Az aktuális szimpatikus, minimalista posztpunk tánczenekar DIY-bájjal, kőegyszerű gitártémákkal, Londonból, második album. A korai We Have Bandet kedvelőknek példul. Ha csak egy videót néztek meg az összes itteni közül, ez legyen az.
The Garden: Haha - 2015
A néha modellkedéssel is foglalkozó kaliforniai ikrek, Wyatt és Fletcer Shears új albuma leginkább azért szerepel itt, mert furcsasága annyira letaglózó. Tizenhét, maximum három, de inkább két perces electropunk/indie/jungle/hip-hop szám, amik leginkább ötletek elénk szórása, mint kidolgozott számok, de milyen ötletek már! Akármennyire nem az igazi még ez, nagyon menő, és rengeteg lehetőség van bennük. Ha a dalírásba jobban belemennek. Alább egy tipikus szám található, de a kedvenc EZ.



U.S. Girls: Half Free - 2015
A U.S. Girls valójában Meghan Remy egyszemélyes projektje, amely idén eséllyel pályázik a legjobb popalbum címre. A számokban továbbra is dominál a játékos, néhol furcsán hajlított énekhang, előtérbe került a dub, és számos olyan zenei textúra, amitől végig ott motoszkálhat bennünk az "ezt már hallottam" érzés, pedig sokkal valószínűbb, hogy csak nagyon jól álltak a csillagok, mikor ezek a dalok megszülettek.

Wavves: V - 2015
Ugyan benne volt a pakliban, hogy a Wavves lesz az új Blink 182, de azért ennyire mégse számítottunk rá. Oké, Nathan Williams talán sosem lesz annyira simulékony, de az biztos, hogy sikerült visszatalálnia a tiniénjééhez, és az ahhoz megfelelő punk pophoz. Nem írok pop-punkot, mert az tényleg a Blink 182 vagy a Green Day, nem mintha egyes pillanataikban ne bírtam volna őket is. És mivel Nathan már nem tini, legyen ez poszttini. Talán nem is baj ez az irány, mert a Lost Boy ?, illetve a fentebb ajánlott Mike Krol idén megcsinálták helyette kb. az ideális Wavves-albumot, ez meg a nagy kiadónál kijött fésültebb. Vállalható, élvezetes, elsöprő energialöket azoknak, akik kicsit szégyellik, hogy valamennyire azért szerették a Blink 182-t.