Azt hittük, a nyár lazulósabb lesz, de az új albumok csak úgy ömlenek még ilyenkor is. Voltak, amiket jobban szerettünk a Sick Sad World infantilis punkos/szörfös popjától a Titus Andronicus 29 számos, nagyívű és változatos "punk-rockoperáján", a Chemical Brothers pár kiemelkedő pillanattal rendelkező önismétlésén, a Franz Ferdinand- és Sparks-tagok néhol egész ötletes együttműködésén, a borzalmas nevű, de a negatív energiák levezetésére alkalmas Rectal Hygienics-en, a Wolf Alice mainstreambe csúszó indie-jén, a No Joy megkapó, de most nem kirívó csajos posztpunkján vagy a svéd Pale Honey 90es, csajos-popos alterzenekart idéző zenéjén át a Prinzhorn Dance School megható minimalizmusáig. És akadtak olyanok, amiktől ennél azért többet vártunk: a szívünkhöz igen közel álló Crocodiles ezúttal elég lapos noise popjától a The Bird And The Bee cuki, de uncsi lánypopján át a Tame Impala elszintisedett és egyben számunkra el is unalmasodott pszichedelikus popjáig (bár ez a szám pont faszaság). Maccabees, Seapony, satöbbi, satöbbi, hallgassátok mindet (akár itt, a linkekre kattintva), és még többet! Alább pedig amik közelebb kerültek a szívünkhöz – lesújtó darkpoptól táncos-garázsos posztpunkon át suhanc észosztásig.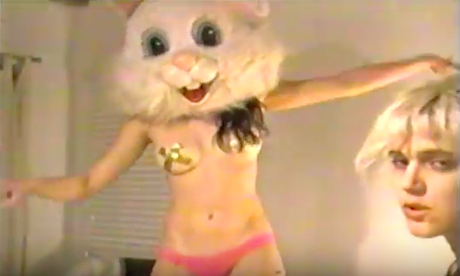 Institute: Catharsis - 2015
Austini, önmarcangolós, táncoltató, garázsos posztpunk, ami talán a nyár egyik legszórakoztatóbb nyomorúsága minden kliséje és vicces verbális szélsősége ellenére.  


Flesh World: The Wild Animals In My Life - 2015
Egy noise popper csaj egy egy queercore banda tagja hozta össze a nyár legpörgősebb (mégis borongós) dream pop albumát, amiben a punk lendülete vegyül a zajongós álmodozással. Aki szereti a C86 válogatást, a shoegaze-t vagy akár a Sonic Youth-t, ezt is kedvelni fogja. Új DIY-kedvenc.


Slaves: Are You Satisfied - 2015
Mindig jönnek fiatal suhancok, akik majd jól megmondják, hogy ti bazmeg nem is éltek, majd mi felrázunk titeket, ti kispolgár szardarabok. Na, ez most a Slaves, sok bunkó megoldással, de meg kellett, hogy adjuk magunkat az energiának, amivel rátámadnak a kényelmeskedőkre, meg mindenre, ami nem tetszik nekik.


Chelsea Wolfe: Abyss - 2015
Chelsea Wolfe mindig a popzene sötét oldalán bolyongott, de most indusztriális, súlyos számaival új mélységeke ér el, és ez elől kár is menekülni. Az erős kezdés ugyan elhalkul az album második felére, de a felejthetőbb számokban is megvan az a plusz, amitől ez bár egy nehezen befogadható, de nagyon jó album. Érzékeny és apokaliptikus.


The Megaphonic Thrift: Sun Stare Sound - 2015
Kedvenc norvég noise poppereink sötét, zajos/néhol pszichedelikus/kedvesen bólogatós albuma adott a hebrencs nyári hangulatnak egy baráti pofont, mikor már majdnem EDM-et hallgattatott velünk a forróság (dehogyis). 
Negative Scanner: Negative Scanner - 2015
Egy szuper, pörgős-ideges posztpunk újdonság Chicagóból, ami egyszerre táncoltat és nyom le - tökéletes kombináció. Elejétől a végéig feszes, ami nem kicsit köszönhető a szigorú csajéneknek is.  
Wavves X Cloud Nothings - No Life For Me - 2015
Nagyon találóan írja a Pitchfork, hogy milyen tökéletes párosítás, hiszen igazán összeillő (és neves) zenekarok: pop is, punk is, de nem pop-punk, és mindketten oda tudnak csapni. A Wavves Nathan Williams-e amúgy másik mellékprojekttel is jelentkezett (Spirit Club) idén, és az új albuma is hamarosan megjelenik, szóval dolgos éve volt. Ha ezt a két nevet meglátom, azért egy ütősebb albumra gondolok elsőre, de akadnak itt húzószámok, nyárra pedig aztán főleg kellemes meglepetés volt e rövidke együttműködés.


Soko: My Dreams Dictate My Reality - 2015
A francia énekesnő magát Robert Smith-t kérte fel producernek, végül a Cure egyik korábbi producere segített neki (ez hallatszik is, szerencsére), illetve más híresség is feltűnik: Ariel Pink két dalban is. Posztpunkos-dark, nagyon fülbemászó számok a nehéz gyerekkorral terhelt előadótól, aki azért táncoltatni is tud. 


White Reaper: White Reaper Does It Again - 2015
Louisville-i fiatalok 70-es évek pop-punkját idéző, táncoltató albuma, ami ugyan túl sok nyúlást tartalmaz, de olyan hévvel, frissességel adják elő, hogy a töltelékszámok is megbocsáthatók.
Best Friends - Hot. Reckless. Totally Insane. - 2015
Sheffieldi fiatalok debütáló lemeze, ami az Allmusic leírása szerint 90es éveket idéző garázspop. Hát, igen, valami ilyesmi. Nem túl kirívó, de energiája, meg lazasága bólogatós és táncos pillanatokat eredményez.


White Manna: Pan - 2015
Az aktuális jóleső pszichedélia némi zajjal, természetesen nagyívű ópuszokat eredményezve. Jól másolnak, beleteszik a sajátjukat is, ez nekünk most elég volt, hogy vissza-visszatérjünk rájuk.


Sweet John Bloom: Weird Prayer - 2015
Az utóbbi években rogyásig tolt garázskodás ugyan csömört okozhat, de ha egyszer mindig akad megmozgató, a maga természetességével hódító darab, akkor miért állnánk ellen pusztán sznobságból? Fogj egy söcőt, és bólogass!


Courtney Barnett - Sometimes I Sit And Think, And Sometimes I Just Sit - 2015
Bevallom, kicsit túl sokszor gondoltam az adult alternative kifejezésre hallgatás közben, pedig nem is tudom, pontosan mit kell érteni alatta. Mégis, az a pár eltalált szám, és a nagyon szimpatikus, 27 éves ausztrál énekesnő átütő egyénisége bizalmat keltett, és remélem, hogy a legnagyobb kool csaj dalszerzők között lesz hamarosan. A kritikusok mindenesetre már most is imádják. Az alábbi pedig az év egyik legjobb száma:


Umreti Fit: Zvezde Na Plafonu - 2015
Egyik kedvenc szegedi zenekarunk, a yu-wave-ben nyomuló Umreti eleresztette második EP-jét is, amelyen ugyan megint szerbül kajabálnak, megint jó férfiasan-energikusan zúdítják a posztpunkot, de most talán összeszokottabban és kísérletezőbben, hiszen végre akad lassabb szám is. Szigorú, de közben játékos is, és még mindig nem érdekes, hogy egy kukkot se értesz.


Korábbi albumajánlóinkat ITT találhatod!

Következő eseményünk a szegedi Grand Café őszi nyitóbulija szeptember 5-én (szombaton), kattints a részletekért!