A szokásos nyár előtti albumáradásba próbáltunk nem belefulladni, sok-sok alternatív újdonságot hallgattunk meg az Alabama Shakes igazán fílinges garázssouljától a kissé jelentéktelenül folytató Django Djangón, a hol nagyonindie, hol kicsit pszichedelikus, hol garázsos Mikal Croninon, a Nouvelle Vague alapítójának trip-hop klasszikusokat feldolgozó Bristol projektjén át a The XX végletekig intim számaival, illetve remixeivel, mixeivel híressé vált Jamie XX elektronikus útkereséséig, valamint magyar megjelenésekben sem volt hiány a The Trousers itthon egyedülálló, 70-es éveket idéző rockmenősködésétől a Spark The Hawk kissé hamiskás, de cuki indie folkján vagy a szegedi Johnny In The Jungle remek, filmzeneszerű posztrockján át a morningdeer csajos-személyes  és új szintet lépő elektronikájáig. Ami kimaradt, nyáron pótoljuk, alább pedig azokat emeljük ki, akiket a legtöbbször, a legszívesebben hallgattunk 2015 májusában világmegváltó amerikai punktól mainstreamet célzó brit gitárpopon át debreceni együtténeklős-együttugrálósig. Kattints minden linkre, klipre, csemegézz, megéri!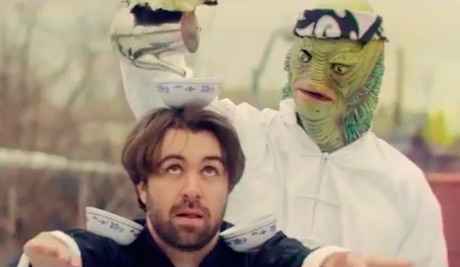 Amiket kedveltünk, azaz többször is szívesen hallgattunk (ahol link az albumcím, ott találod az egészet):

The Fall: Sub-Lingual Tablet - 2015
A punk/posztpunk elő legendája, Mark E. Smith és jelenlegi, teljesen atipikus módon 8 éve szinte változatlan zenekara a The Fall 31. stúdióalbumát hozta össze. Én nem is kezdem el még a laikusok kedvéért sem, hogy miért egy valóságos intézmény ez a zenekar, és mekkora hatású, aki nem tudja, higgye el, talán ez az album jó kis bevezető lehet. Mert bár inkább csak adalék a monstre életműhöz, de a Fall azt is úgy tudja, hogy ne lehessen csak úgy legyinteni rá. Húzós kezdet, ahogy kell, érdekes csúcspont egy tízperces ópusszal, és néhány tompán puffanó szám. Mark E. Smith pedig fáradhatatlanul kántál, bizonyít, elégedetlenkedik, kikapcsoltatja az iPhone-t. Nem rázza meg a világot már nyilván, de a rajongóknak pont megfelelő, az új érdeklődőknek (ha vannak még egyáltalán ilyenek) meg talán pont elég érdekes, hogy akár ezen a ponton kapcsolódjanak ebbe az elképesztően hosszú és zseniális történetbe.
Best Coast: California Nights - 2015
Az überkaliforniai, szerelemmel, napsütéssel és aranyos fájdalommal operáló Best Coast harmadik nagy albuma már igazi profi produkció, és talán pont ez a probléma vele, elveszett a báj. Azért még mindig kellemes az említett témákról egy nagyon magabiztos és kedves női hangon hallani, a gitártémák pedig a szokásosan andalítanak, na, nem az álom, hanem inkább a tánctér felé.
Hot Chip: Why Make Sense? - 2015
Az érzelmes, langyi elektronikus zene veteránjai most még a szokásosnál is kevesebbszer akarnak meglepni tőlük elvárható fordulatokkal, ami talán nem is baj, így kellemesebb háttérzene bárki számára. Megint akad 1-2 kiemelkedő szám, és az egész rendben van, úgyhogy lehet tovább szeretni őket annyira visszafogottan, amennyire ők is azok. 
Palma Violets: Danger In The Club - 2015
A poszt-Libertines brit kocsmaindie új üdvöskéi második albumukkal sem robbantanak nagyot: túl hosszúra sikerült, és a végén úgy érezheti magát a hallgató, hogy egy egységes massza szólt megjegyezhető momentumok nélkül. Utóbbi azért igazságtalan, mert akadnak, de a lényeg mégiscsak az, hogy biztosan jó iszogatni rá, és leszarni, hogy most mennyire volt ez ütős vagy nagy ígérettől elvárható.
The Helio Sequence: The Helio Sequence - 2015
Keserédes, atmoszférikus indie popban nyomul jó ideje már ez az amerikai zenekar, és bár igazán megkapó számaikból talán csak egy albumnyit lehetne összehozni, mégis mindegyik kiadványuk ad egy olyan bensőséges hangulatot amellett, hogy vállalhatatlan számokat sosem tartalmaznak, hogy hiába nem emlékszel a felére se, úgy érzed, ezt jólesett meghallgatni. Na, így van ez most is.
Milky Wimpshake: Encore, Un Effort! - 2015
Azt olvastam, hogy ez twee punk, ami valószínűleg a twee kedvesindie tinglitanglijára és a punk DIY-esztétikájára utal, nos, ez a kettő tényleg benne van. A newcastle-i zenekar már kb. 15 éves múltra tekint vissza, mégis még mindig olyan hanyagul bájos, mintha most kezdenék. Ám a cukiságot ellensúlyozza még néhány odamondós szöveg is pl. szexuális devianciáról, meg ilyesmi, szóval, nem olyan egyszerű ám ez, ahogy elsőre kinéz. Sajnos a beszúrt szám nem a legizgalmasabb, de úgy tűnik nem törekednek arra, hogy mindenhol jelen legyenek – mindenestre pl. Deezeren meghallgathatjátok.
The Sonics: This Is The Sonics - 2015
A 60as évek nagy hatású garázsrock színterének egyik legkarcosabbika, így a Nirvanának vagy éppen a The Fallnak is alapot adó The Sonics 49 év után elérkezettnek látta az időt egy teljesen új számokból álló albumra, ami egyáltalán nem öregemberes erőlködés, hanem egy élő legenda méltó villanása. Nyers, energikus, fülbemászó. Ki más tud ilyet hetvenvalahány évesen?
MYGL: MYGL - 2015
A My Girlfriend's Laptop Szőke Barna elektronikus projektje. Ő amellett, hogy a Nemjuci ex- és a Qualitons jelenlegi tagja, és klipeket is rendez, mixeket készít, a Hó Márton és a Jégkorszakban is részt vesz, utóbbi miatt adott volt, hogy ha énekes kell ehhez a projekthez, akkor Hó Márton legyen az. Na, most én azon kb. 100 ember közé tartozom, aki szereti Hó Marci dolgait (na, jó, lehet, hogy több), de annyira ne rettenjen el az sem, aki nem, mert Barnával egy kicsit talán visszafogta magát, és, ugye, a minimalista, mégis dallamos, ötletes és nyugis elektronikus alap is más helyzetet teremt. Én, mondjuk, a hangszerelésen még dolgoztam volna, de ez direkt ilyen, és különben is, egy idő után behúzza a hallgatót a saját szabályai közé. Szobazene, ami alkalmas a szélesebb közönség felé nyitásra (na, azért nem annyira szélesebb). Kíváncsi vagyok, mikor jön ki a remixalbum.
Nyolcadikosok: Témazáró - 2015
A Nyolcadikosok egy debreceni indie rock együttes, aminek a tagjai Pixies-en, a Strokes-on, Replacements-en és még sok-sok hasonlón nőttek fel, a 2012-es alakulás után pedig itt a debütalbum. A kezdet bájos, mondhatni punkos lendületével és amatőrségével együtt szuper szórakozás az egész, és ha élőben is működik (ezt nem tudjuk), akkor tényleg hurrá. Van egy újabb alternatív magyar zenekar, amire lehet sörözve pattogni. Csak a húszéveseké a világ.

 
Amiket mindenképp ajánlunk, azaz legszívesebben ezeket hallgattuk (ahol link az albumcím, ott találod az egészet):
Lost Boy ?: Canned - 2015
Brooklyni zajos-játékos, 90-es évekből merítő, tempós indie rock, ami annyira fülbemászó, hogy nem lehet ellenállni. Aki a Wavves-et szereti, szerintem ezt is fogja, és a Pixies-rajongóknak is tetszhet. Ha minden igaz, az alapító Davy Jones egyébként az általam nem ismert Bakedben is gitározik, az utolsó két számot pedig nem ő, hanem az általam szintén nem ismert Bueno frontembere énekli. Csak hogy legyen valami infó…
Metz: II - 2015
Aki a torontói Metz előző albumát szerette, ezt is fogja: kb. fél órányi, megkapó riffekkel teli kajabálós-zajos-mérgesnirvanás dal, amik tökéletes energiabombák, ha épp azt gondolod: elég, legfőképp a kényszeredetten lesimított, illedelmes mindennapi életből. Nem kegyelmez, nem mismásol, odabasz végig. És bár ez egy idő után fárasztóvá is válhat, addigra te is ugyanilyen mérges leszel, úgyhogy nem akarod kikapcsolni.
The Vaccines: English Graffiti - 2015
Az angol gitárpop legtáncoltatósabb és legfülbemászóbb csapatának énekese, Justin Young megunta saját zenei korlátaikat, bejáratott táborukat, és úgy döntött, ezzel az albummal robbant majd a nagyközönség felé az Arctic Monkeys vagy a Coldplay sikereit ostromolva. És valóban a korábbiaknál változatosabb dalokkal állt elő, bár úgy összességében mégis hasonló az eredmény: van itt táncos, tinglitangli, néhány megragad, néhány helyett meg az előző EP számait illesztettük volna be inkább. Azt is nyilatkozta, hogy napi 100 dalt tudna írni, mert annyira jön belőle. Ennek örülünk, most is, de azért a szelektálás mehetne egy kicsit jobban, és hogy a durván mainstream siker bejön-e, meglátjuk. Szerintem nem olyan nagy baj, ha nem.
Thee Oh Sees: Mutilator Defeated At Last - 2015
A kaliforniai garázs színtér egyik legkiemelkedőbb szereplőjét, a Thee Oh Sees-t annyiszor annyian nevezték már munkamániásnak, hogy szinte unalmas, de mit lehet tenni, ha egyszer John Dwyer és immár megváltozott csapata csak úgy ontja a jobbnál jobb, hol finomabb, hol súlyosabb garázspunkos, pszichedelikus számokat. A tavalyi, visszafogottabb album után most többször a húrokba csapnak, és már nem is érdekes, melyik albumuk kiemelkedőbb, melyik nem, ha kiadnak valamit, azt érdemes meghallgatni. További érdekesség, hogy Dwyer nemcsak a fullgitáros dalokat ontja, de szinte ezzel párhuzamosan elektronikusabb projektje, a Damaged Bug is kijött 2., amúgy nem rossz albumával.
Downtown Boys: Full Communism - 2015
Becsúszott még egy dühös kedvenc, úgy látszik, ez egy energiával teli hónap. Ez amolyan igazi társadalomjobbító punk, felhívja a figyelmet sok problémára a homofóbiától a börtönök túlzsúfoltságáig, azaz mindarra, ami őket mérhetetlenül elégedetlenné teszi. Olyan kedves gyerekek ezek a punkok, csak jobb világot akarnak, azért ilyen mérgesek. Érdekesség a szaxi erőteljes megjelenése, na, de hát ha valamire megtanított minket a magyar popzene, az az, hogy minden igényes számba kell a szaxi (nem is beszélve az X-Ray Spexről). Plusz előny, hogy az énekes egy felbőszült csaj, aki spanyolul is tud, és nem átall Bruce Springsteent énekelni a végén, rögtön egy chilei szám feldolgozása után. 
Dope Calypso: Banzai! Banzai! Banzai! - 2015
A Kollaps, illetve a Haunebu romjain alakult Dope Calypso (leginkább) garázsrokkja táncoltat, ötletesen keveri a paneleket, abszolút felveszi a versenyt a külföldi hasonlókkal. A lemezt Olaszországban vették fel, és a profi feltételek nagyon jót tettek az albumnak: a hangzás, az apró ötletek megvalósítása igazi pluszt ad. Talán az év egyik legjobb magyar, gitáros alternatív lemeze.


Korábbi albumajánlóinkat ITT találod! Facebookon ITT csatlakozhatsz a szegedi UNDorgrUND csoporthoz, ha szívesen értesülnél új alternatív zenékről, illetve budapesti/szegedi programokról.